Who doesn't enjoy teaching fables? Kids [and their teachers] love these short, entertaining stories. You can also use fables to teach the standards. They're great for summarizing, theme, and even that pesky multimedia standard. Sprinkle in a few fable-based plays for readers theater, skits, or full-blown plays. What's more? Fables provide the perfect introduction to narrative writing.
Ms. Sneed Takes a New Twist on Teaching Fables
"It's time for the fables unit," Ms. Sneed's fourth grade teammate, Mrs. Walton, announced. She pulled out a ratty-looking folder. "I can copy these fables and the questions for everyone."
Ms. Sneed wiggled around in her seat. "Well," she said, "I was wondering if we could try something new in our ELA block."
Everyone stared. Do something new? They'd always done it this way.
"I pulled together a few ideas that can help us boost achievement while teaching fables."
Her team leaned in. This sounded interesting.
Teaching Fables with Reading Standards
"Let's talk about reading first. In addition to answering questions, kids will hit four more literature standards. For example, they'll learn to summarize and find a theme. In addition, they can analyze media, compare similar tales, and work with prose and drama."
"That's a lot of standards covered," Mr. Frank said. The other teachers nodded their heads.
"I agree," said Ms. Sneed. "We can pick and choose based on the needs of our students."
1. Taking a Genre Approach
Ms. Sneed picked up a file folder. "To begin with, I found a set of fables. It offers a variety of options, as well as these two posters. First, kids explore the genre. Then they read a short biography of Aesop."
"I like the way these posters introduce fables," Mr. Frank said. "It really sets the stage."
"Yes, let's use that for the first day of teaching fables ," said Mrs. Walton.
2. Answer Higher Order Questions
Ms. Sneed pushed a few more pages toward her teammates. "The resource also offers a bunch of higher order questions. As you can see, the teacher can pose the questions – or kids can respond to question cards."
"Great," said Mr. Frank. "Our kids need to think more critically."
"What about written questions?" asked the woman on the right.
"Ten sets of fables and questions are provided. However, I only plan to use a few. I'll keep the rest on hand for review later in the year." Her teacher friends nodded.
3. Compare Similar Folktales
"The fables questions resource also offers opportunities for comparing and contrasting. When kids analyze similarities and differences, fables can be surprisingly alike. Think, for example, about "The Ants and the Grasshopper" and "The Tortoise and the Hare."
Mr. Frank tapped his finger on his chin, deep in thought. "Aha," he said. "At first, I thought they were totally different. Then I realized that each has lazy and productive characters."
"And the moral is the same too," said Mrs. Walton.
"Exactly. Kids can find hidden similarities. And use more critical thinking."
4. Summarize
"To practice summarizing," Ms. Sneed continued, "I found another fables resource. Kids can use tables or a story arc template," Ms. Sneed continued.
The teachers passed around the story arc. "This matches the way we like to teach narrative writing," one said.
"Gotta love that reading-writing connection," Mr. Frank said.
5. Find a Theme
"Since fables have clear morals, they're also perfect for teaching theme," Ms. Sneed continued.
"I found yet another fables-based resource that introduces finding a theme. The process scaffolds naturally. First, kids learn to pinpoint the moral, or lesson. Then they find a theme from connected details. If your kids catch on well, they can also analyze a character's response to obstacles."
6. Analyze Text and Media
Ms. Sneed paused and smiled. "I know you'll like this part. You know that pesky standard about text and media? I found some activities to address it. We can use them when teaching fables! Kids analyze three one-page texts of "The Tortoise and the Hare." With the first text, no illustrations are provided. For the second, students see a life-like illustration. The third text uses the cartoon illustration shown above. In the activity, students analyze how their perception of the characters changes with illustrations. Finally, they view a video version and analyze again."
"Well that seals the deal," Mrs. Walton said. "I'm in!"
Ms. Sneed smiled. Her co-teacher's enthusiasm was contagious.
7. Compare Prose and Drama
"In addition to fables written in narrative form, I found a set of seven fable plays. Another resource lets students compare prose and drama versions of the same story."
"What a great tie-in to our standards!" Ms. Walton exclaimed.
"Yep, and once again…"
"…critical thinking!" Ms. Sneed and Mr. Frank said together.
8. Present Plays
"My students would like to present the plays too," said Mr. Frank.
Ms. Sneed slid seven plays across the table. "The kids will love these short dramas," she said.
"They could even present them to their parents," said Mrs. Walton.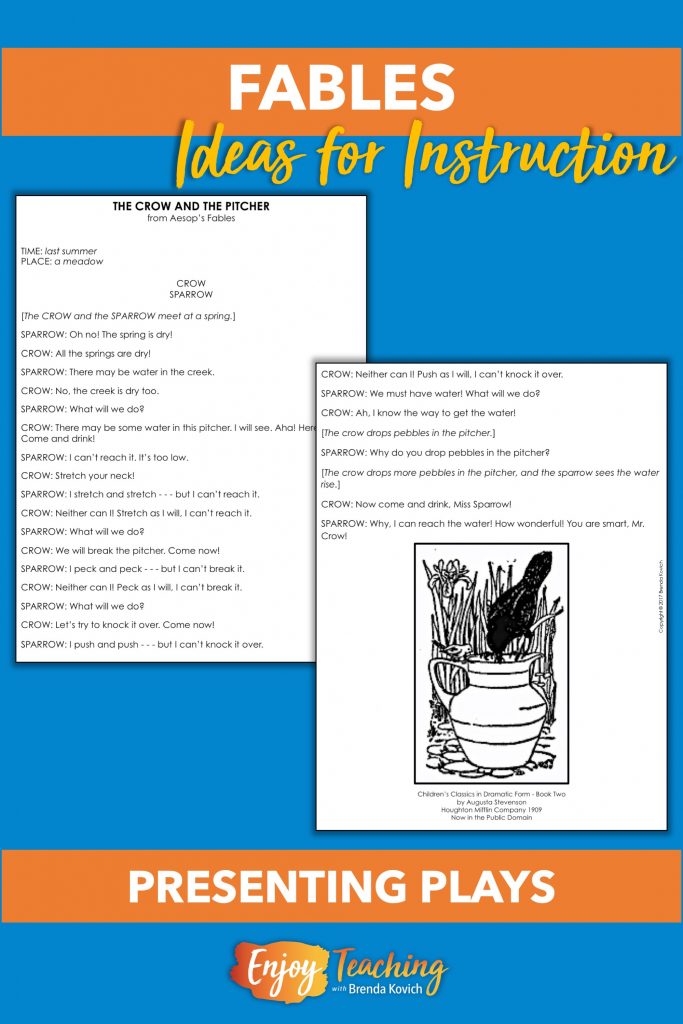 Language and Writing Standards
"I know this is a lot to take in," Ms. Sneed said. "However, I have one more activity for teaching fables to show you."
9. Write Fables
"This corresponding writing project is just what we need," said Ms. Sneed. "It takes kids through the entire writing process. And it thoroughly teaches writing dialogue."
"Oh good, my kids are so bad at that," mumbled one teacher.
As the teachers looked at the writing fables resource, they all agreed. This age-appropriate project was perfect for their upper elementary students.
Give It a Try!
"So," Ms. Sneed smiled, "what do you think? Let's decide which of these great activities we'll try when teaching fables this year. We'll start with this smaller bundle and see how the genre study grows."