Teach Great Lakes geography with maps of the region. Kids will label the lakes, as well as surrounding states, provinces, and cities. They'll learn to spell them too!
Ms. Sneed Teaches Great Lakes Geography
"Today," Ms. Sneed told her class, we'll begin learning about Great Lakes geography. Since we live near the lakes, I think it's important for you to identify them. Additionally, you need to identify the surrounding states provinces, and major cities."
The teacher held up a picture book. "We'll be reading this book to learn more. Holling Clancy Holling wrote and illustrated Paddle-to-the-Sea. Published in 1941, it received the Caldecott Honor Seal for its excellent drawings and watercolors. Every year, I enjoy teaching this great book."
Practice Great Lakes Geography
As she talked, Ms. Sneed handed out a Great Lakes study guide. "You'll use this labeled copy to study," she said. "I'm also giving you a blank map for practice."
"Before you write anything on the practice sheet, pair up. Then I'd like you to practice orally. One person can hold the labeled map. The other can hold the blank map. Then you can practice by pointing to the lake, state, province, or city and naming it."
Soon the room was buzzing. Ms. Sneed smiled. "How can you get them to study?" she said to herself. "With anything social."
Spelling
The next day, Ms. Sneed distributed a new paper. On the right, a map of the Great Lakes appeared; on the left, a list of spelling words. "You'll also learn how to spell the lakes, states, provinces, and large cities of the region. Just practice these words. We'll have a pretest tomorrow. Then, on Friday, you'll have the quiz on geography and the spelling posttest."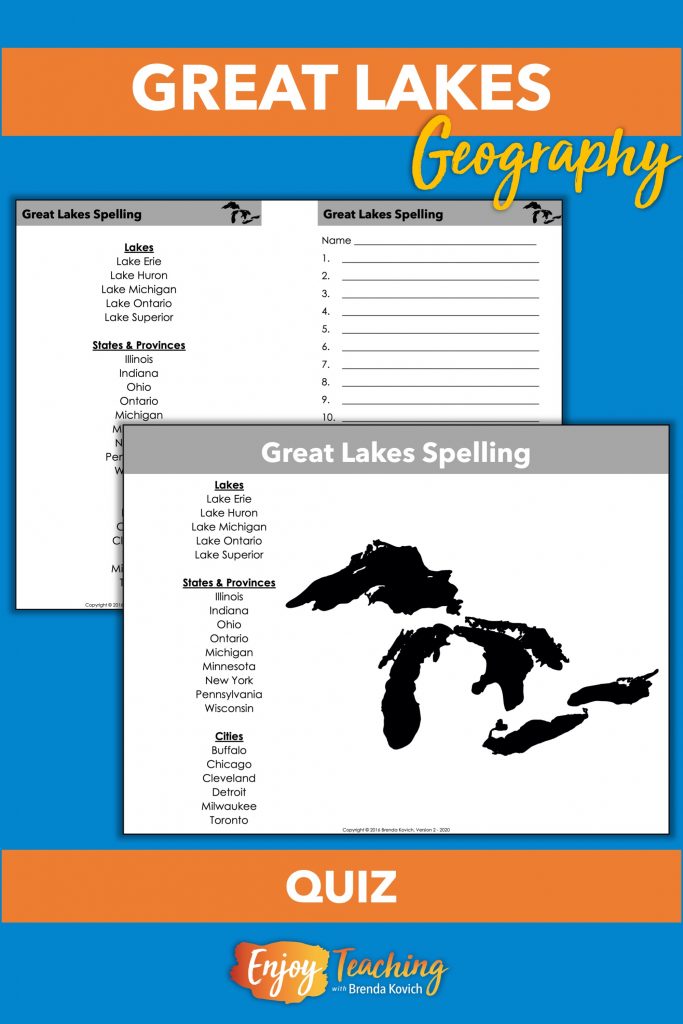 Next, she handed out copies of Paddle-to-the-Sea. As the students opened their books, they marveled at the beautiful pictures. "Let's get started," Ms. Sneed said. "We'll read three chapters out load together each day."
Spelling Pretest
The following day, Ms. Sneed distributed half-sheets of lined paper. "Number one through twenty," she said. Once they had numbered, their teacher began the spelling test.
Later that day, she returned their graded tests. In addition, students who had not scored 100% received another page. On the left, the spelling words were again listed. On the right, numbered lines appeared.
The kids knew the drill. On the left, they circled any words they missed. Then, on the right, they wrote their name and circled the number that corresponded to the word. Finally, they cut the sheets in half. They kept the side with the words to study. But they gave the side with the numbers to Ms. Sneed. That way, they only needed to take the words they missed on Friday.
Geography and Spelling Quizzes
On Friday, the students were ready. Ms. Sneed provided the geography quiz and spelling posttest as promised.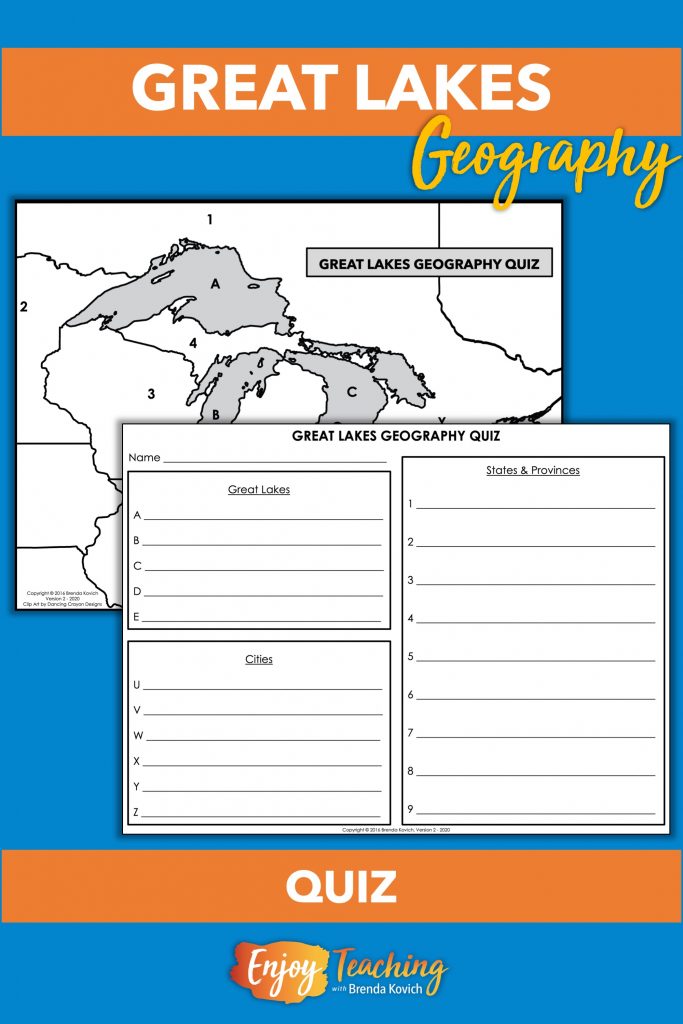 As they finished up, Ms. Sneed asked them to get out their books. "As we read Paddle-to-the-Sea," she said. "I have more Great Lakes activities for kids. We'll learn more facts, as well as geology and hydrology of the region."