Looking for some light websites? Try these! They'll spice up your energy unit for third, fourth, and fifth grade students.
Light Websites
What Is Light? (Synopsys) explains light and its features. Furthermore, this kid-friendly text explores how light travels and can be controlled.
What Are Lenses? (Synopsys) tells about convex, concave, and complex lenses. Additionally, it explains how optics are used in astronomy and space exploration.
Light (ExplainThatStuff.com) provides a comprehensive summary of light and its properties. If you're looking for a thorough text to supplement your unit, you've come to the right place.
Light Facts for Kids (Kiddle) also provides a comprehensive summary. Written for kids, the text is full of links.
Science of Light (Ducksters) briefly summarizes light energy.
Light Facts (Science for Kids) lists brief facts about light. In addition, it explores the contributions of scientists. For example, Isaac Newton invented the glass prism. Additionally, Galileo Galilei made the first telescope.
Fun Facts on Light Energy (FunFacts.org) also provides facts about light. It features a fact sheet with 15 fun facts.
What Is Optics? from the Optical Society – A short introduction explores this branch of physics. Furthermore, students can click on subcategories:
Optics Dictionary
Optics Timeline
Basics
Medical Applications
Reflection
Refraction
Optical Illusions from the Optics 4 Kids – Seventeen optical illusions challenge kids' perception. Each asks a question. Children click to find the answer.
Lighten Up! was created for Girl Scouts. It presents a variety of light activities. In addition, careers in optics are highlighted.
Light Activities
Are you looking for some great activities for your light unit? Try these! Adding a variety of resources will enrich your physical science unit.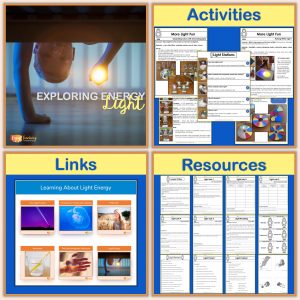 More Light Resources
Energize your light unit! You can improve scientific thinking. First, encourage kids to make generalizations. Second, use a scientific inquiry. Finally, employ a fair test.
Now add a few resources. Light videos help kids conceptualize. In addition, trade books provide more reading experiences.