Enjoy teaching Black History Month with research projects and two other ELA activities. First, kids research famous African Americans. Second, they learn about the earliest Black settlers in the United States. Third, students read a biography of Martin Luther King, Junior, create a timeline, and more.
Ms. Sneed Searches for New Ideas for Teaching Black History Month
Our favorite fourth grade teacher, Ms. Sneed, sat at the side table with her student teacher. "Let's find some ideas teaching Black History Month in our ELA block," she said.
She opened her laptop and looked through her files.
"Aha," Mr. Grow said. "I see you have an entire folder of activities – research projects and more!"
Differentiated Research Projects on Famous African Americans
Ms. Sneed smiled. "Yes, these are some of my favorites."
She clicked on a file named African American Research Project.
As Mr. Grow looked on, she began to explain. "Initially, kids complete this template. It asks them to describe the person's life, as well as what made them famous.
"For our lowest readers, this may be all we ask. However, a second sheet asks for challenges the person faced, how they overcame them, and who helped or inspired them."
Mr. Grow nodded his head. "I like that. Kids will understand that great people are supported by others."
Next, Ms. Sneed scrolled between two more worksheets. "This timeline asks kids to chronicle events in the person's life, as well as events in history. Then they explain how historical events changed the person, as well as how the person changed history."
"Powerful," Mr. Grow responded. "I can see that kids will need to dig much farther in their research, as well as think more deeply."
Ms. Sneed nodded. "That's why I like using this for teaching Black History Month. To me, it cuts to the core of what the celebration is about.
"Additionally, these additional pages challenge our strongest readers. As you can see, the project is fully differentiated. That means we'll reach every student at an appropriate level."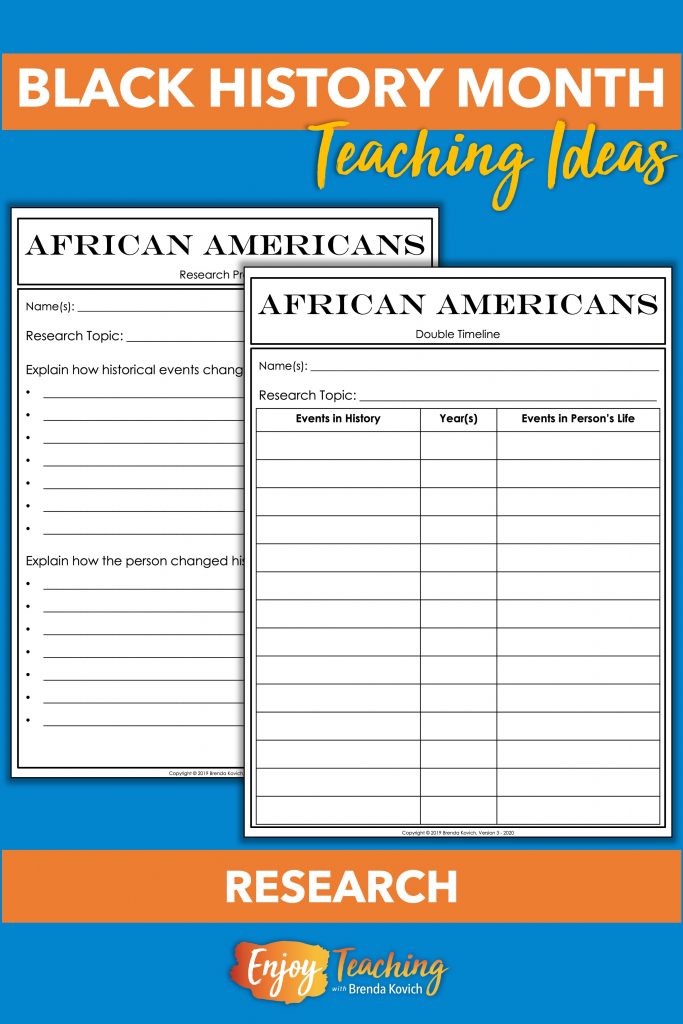 Creating a Black History Month Display
Once again, Ms. Sneed began to scroll. "In this file, we find templates for 32 famous African Americans:
Susan B. Anthony
Muhammed Ali
Marian Anderson
Maya Angelou
Louis Armstrong
Josephine Baker
Benjamin Banneker
Ruby Bridges
Gwendolyn Brooks
Kobe Bryant
George Washington Carver
Frederick Douglass
Charles Drew
Langston Hughes
Michael Jackson
Lebron James
Katherine Johnson
Michael Jordan
Martin Luther King, Jr.
Thurgood Marshall
Barack Obama
Michelle Obama
Jesse Owens
Rosa Parks
Jackie Robinson
Wilma Rudolph
"For each leader, we have two different templates. A page with a large picture asks kids to simply write their contribution. Then a lined page lets them write a report."
"So," said Mr. Grow. "our students begin the project with the research questions?"
Ms. Sneed nodded.
"And then they use their research for these pages."
"Right again. And guess what? We get a beautiful Black History Month display! I like to staple both pages to a 12×18″ sheet of construction paper before hanging them up."
More Research Projects Featuring Black Inventors
Now Ms. Sneed opened a new file entitled Famous Black Inventors. As she scrolled through it, Mr. Grow could see that it was the same as the first Black History Month research project.
"The people in this file are innovators. They include:
Patricia Bath
Andrew Jackson Beard
Otis Boykin
Albert and Marie Brown
George Carruthers
George Washington Carver
Alfred Cralle
David Crosthwait
Mark Dean
Philip Downing
Charles Drew
Sarah E. Goode
Bessie Blount Griffin
Walter Lincoln Hawkins
Thomas L. Jennings
Lonnie Johnson
Frederick McKinley Jones
Marjorie Joyner
Percy Lavon Julian
Lewis Howard Latimer
Elijah McCoy
Alexander Miles
Garrett Morgan
Samuel R. Scottron
"As an alternative, we could ask our kids to explore these people."
"Hmm," Mr. Grow said. "It's a tough choice. However, this set would tie in with our engineering design unit."
Again, Ms. Sneed smiled. Her student teacher was beginning to understand double duty teaching.
Early Black History
Next, Ms. Sneed clicked on a file named Early Black History.
"This month," she said, we'll also learn about the earliest African Americans. Although neither of these settlements exists today, Fort Caroline and Fort Mose provide insight on the earliest Black settlers."
Mr. Grow studied the activity. "First, kids read a one-page informational text. Second, they find and label locations on a map of the southeastern portion of the United States. Finally, they use the information to create a timeline. Once again, I love the integrated skills! This will fit nicely into our ELA lesson plans."
Teaching Black History Month with Martin Luther King, Junior
Finally, Ms. Sneed clicked on a file that was simply labeled MLK.
"In my opinion," she said, "teaching about Martin Luther King, Junior, must occur during Black History Month. This time, kids will read a three-page biography. It's written specifically for kids in third, fourth, and fifth grades. Not too long, not too short."
Timeline
"After they've read the text," she continued, "students organize the events on a timeline."
"Cut and paste?" Mr. Grow asked.
"Yes. Kids cut out these rectangles. Then they arrange them chronologically on the other page."
Cause-Effect and Quotes
Once again, Ms. Sneed scrolled down. "Additional activities are included. For example, on this worksheet, students match causes and effects in MLK's life and history. And on this one, they analyze some of his most famous quotes."
"Wow," Mr. Grow exclaimed, "I'm going to love teaching Black History month – research papers, early history, and Martin Luther King, Junior. These activities will engage our learners. Furthermore, we'll hit a variety of ELA skills and standards."
Enjoy Teaching
"Yes, February promises to be an inspirational month in this classroom," said Ms. Sneed. As usual, famous teacher smile spread across her lips.