Digital seating charts are easy to make with Google Slides. First, insert shapes. Then add names. Voila! A movable, editable seating chart!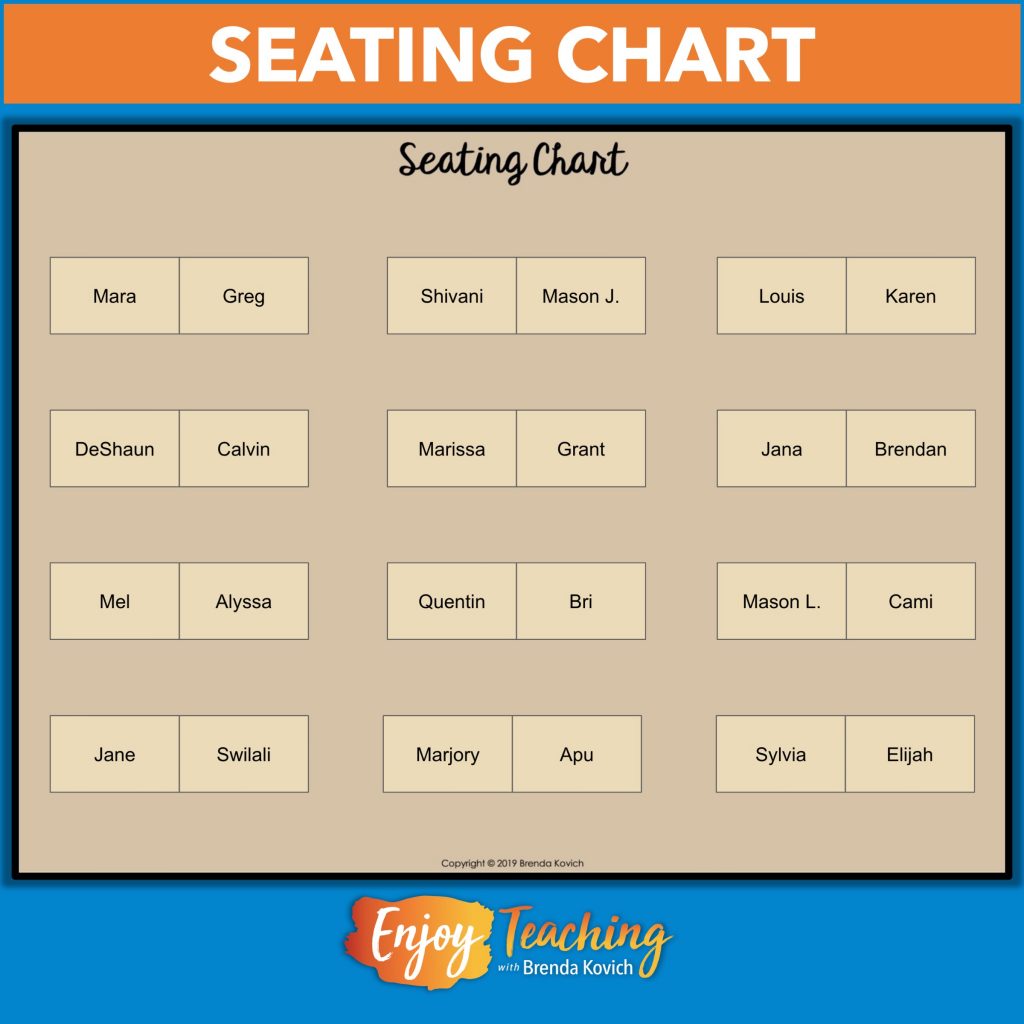 The perfect seating chart offers a kind of feng shui to the classroom. Now you can create a digital template that allows you to easily move desks and/or tables. Just click and drag!
Follow these steps to create your own digital seating chart template. (Or download this freebie with desks already added.)
Choose a Ratio for Your Digital Seating Chart
For the first step, create a new set of Google Slides. After measuring your classroom, go to File then Page setup. Choose the ratio that's best for you – or create a custom setup. (Since my room is longer than it is deep, I chose 4:3.)
Add a Background for Your Digital Seating Chart
Although it's not necessary, you can customize your seating chart. First, create an image with the same ratio aspect as your slide. Save it as an image.
Next, click on Slide and then Change background. Choose your image. Then your image will be embedded into the background of the slide (so it won't move when you rearrange your seating chart).
Create One Desk, Duplicate, and Arrange
Now it's time to add desks (or tables). You can add a shape or text box for this. After sizing it and changing the color, try typing "student name." Adjust the size of the font so that your students' names will fit.
Next, simply copy and paste your desk so you have enough for everyone in your class.
Rearrange the desks however you want.
Make a Copy and Add Names
Before you add your students' names, make a copy of your seating chart. Save it as your template.
If you want a different set of slides for every class you teach, make additional copies. (This step is necessary if you want to post the seating charts on a Google Site.)
Otherwise, you may just duplicate the slide as many times as you need. This way, you would end up with one set of slides holding all of your seating charts.
As you can see, your new Google Slides seating chart is completely editable with handy movable pieces. You'll never go back to pencil and paper again!
Enjoy Teaching with Google Sites and Slides
You can organize your teaching life with Google Apps. Wondering how? Read about ways to use Sites and Slides in your classroom.