Teaching prose, drama, and poetry is quick and easy. Kids have seen these forms of literature before. They just need a little vocabulary, structure, and practice.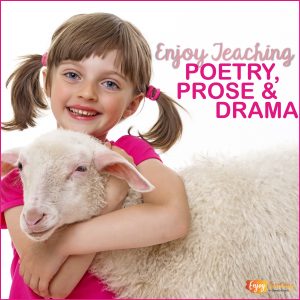 Teaching Prose, Drama, and Poetry
Our favorite fourth grade teacher, Ms. Sneed, browsed the Teachers pay Teachers site. "What can I find for teaching prose, drama, and poetry?" she wondered aloud. "I want to keep it simple and straightforward. Hmm, it looks like this PowerPoint presentation will work just fine." She noticed that it used three versions of "Mary Had a Little Lamb" – prose, drama, and poetry – as examples. "Perfect," she told herself.
Prose
The next day, Ms. Sneed called her class to order. "Okay everyone! Today we'll learn about prose."
"Huh?" snorted a girl in the second row. Looking around, Ms. Sneed could see that other kids looked puzzled too.
"Maybe it's a new word, but this is nothing new to you. Prose is just writing in sentences and paragraphs."
As their teacher launched into a formal explanation, the students leaned in. Funny, hearing the rules for something so familiar was sort of interesting. Ms. Sneed continued with direct quotations and dialogue tags. "I never thought about that…" she heard a boy in the front row murmur.
Drama
Ms. Sneed continued with drama, or plays. She pointed out each element in a drama version of "Mary Had a Little Lamb."
"Can do a play?" a few kids asked. Ms. Sneed's famous smile lit up her face, but she continued on.
Poetry
Soon Ms. Sneed moved on to poetry. After introducing the elements, things got active. The class counted verses and stanzas, clapped out the rhythm, and pinpointed the rhyming pattern.
Practice
The following day, Ms. Sneed distributed a prose, drama, and poetry reference guide.
As she distributed a practice page, she explained what to do. "This excerpt has been written in a mixture of poetry, drama, and prose," Ms. Sneed said. "You will identify the form of literature in the blank area to the right. Then explain why you chose that form. Use arrows to show the section of text you're talking about."
Ms. Sneed found the practice to be quick and easy – once kids knew what they were looking for. Wow, teaching prose, drama, and poetry was actually fun.
Enjoy Teaching
Over the course of her career, Ms. Sneed realized that there were 6 steps to enjoy teaching. In order to survive, she had to organize, plan, and simplify. Then, to thrive, Ms. Sneed needed to learn, engage, and finally – dive in! Follow the Fabulous Teaching Adventures of Ms. Sneed and learn how you can enjoy teaching too.