Teaching argumentative writing in upper elementary grades scaffolds from one to five paragraphs. Learn how to use specific structures and strategies to get effective essays from your students.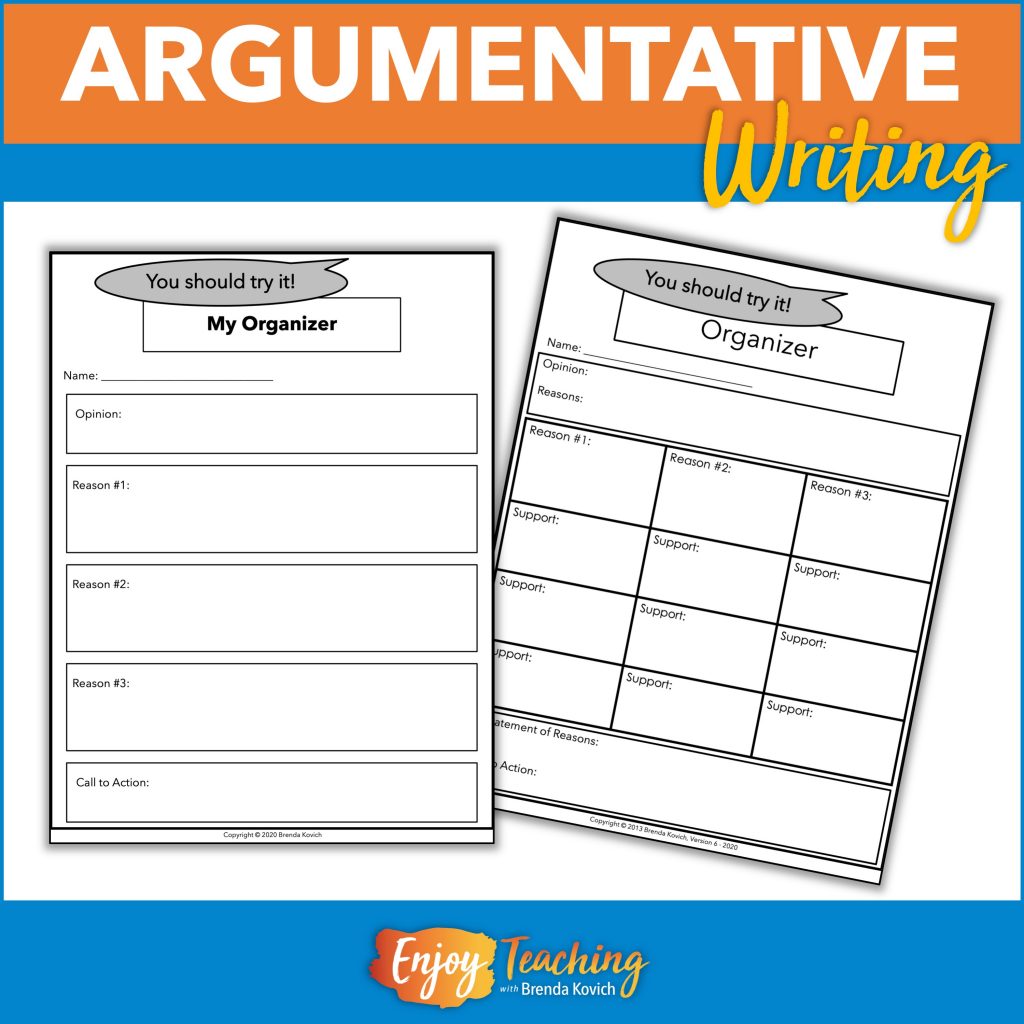 Ms. Sneed Plans for Teaching Argumentative Writing
Our favorite fourth grade teacher, Ms. Sneed, sat at a table with her upper elementary colleagues. "Time to get started on the scope and sequence of our argumentative writing program for third, fourth, and fifth grades," said the curriculum coordinator, Mr. Kalamata. "Next year, our district has committed to monthly one-paragraph and five-paragraph prompts. We'll scaffold learning, building students' skills month after month and year after year."
Teaching Argumentative Writing in Third and Fourth Grades
Mr. Kalamata opened a file folder. Then he distributed a handout.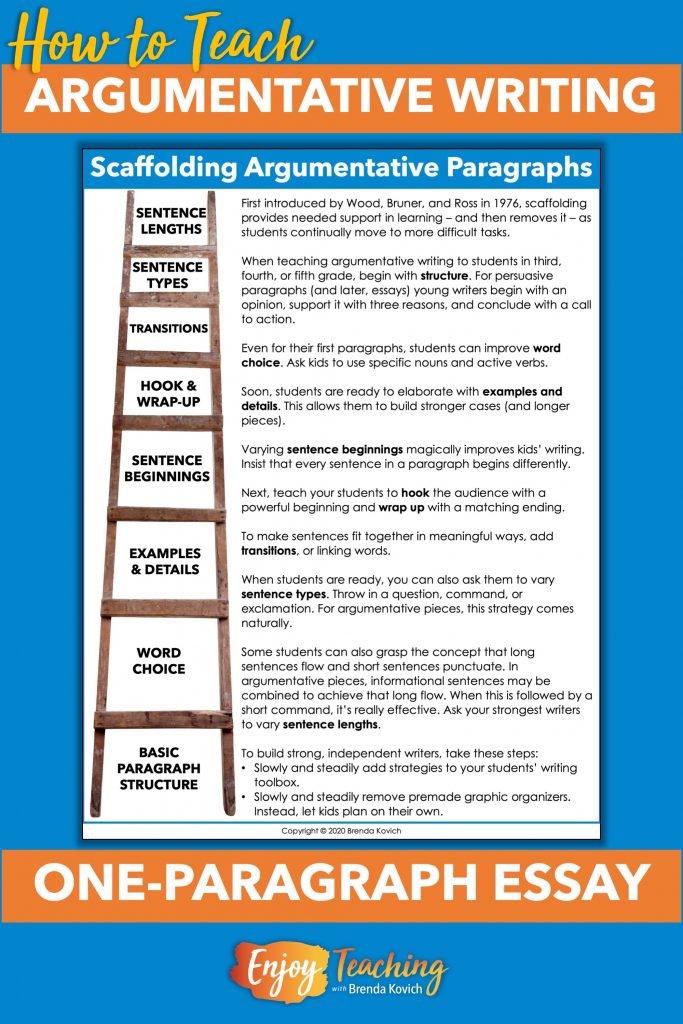 Basic Paragraph Structure in Argumentative Writing
"This ladder shows the approach. Next year is our first year teaching argumentative writing with the new materials. Therefore, both third and fourth grade students will begin with basic paragraph structure. Yep, just opinion-reason-reason-reason-opinion.
"Most prompts will ask for persuasive paragraphs, meaning kids will write from a second-person perspective. Sentences can also incorporate third-person, but the paragraph must end with a call to action.
"Some prompts, however, will ask students to write opinions. That means they'll use first-person perspective. In my experience, younger students take to this especially well. They enjoy sharing their own ideas using I and me.
"Unfortunately, I've been doing too much talking." Mr. Kalamata winked at the teachers. "But fortunately, I've asked each of you to help me out. Take it away!"
Word Choice in Argumentative Writing
Mrs. Walton cleared her throat. "I guess I'm first. Word choice is one of the first strategies students learn. Certainly, we all tell our kids to use specific nouns and active verbs. However, they don't always know how this works.
"I'd like to suggest a collaborative activity. Instead of just telling kids to improve word choice, take a little time to build a shared thesaurus."
The teacher turned on the document camera. "Here, for example, you see a list of specific nouns related to the circus. Whenever your kids write, take a few minutes to create a word bank. Before too long, kids will get in the habit of using wow words."
Examples & Details in Persuasive and Opinion Pieces
Mr. Brock addressed the next topic. "Elaboration builds out argumentative writing. In my years of teaching, three specific strategies stand out. First, kids can add examples. It's easy – and naturally pulls in transition terms. Second, they can add details to existing sentences. Last but not least, kids can add lists. For example, if they're talking about the way a child skips, they can say she steps, hops, and slides."
Before continuing, he displayed a different example. "Take a look at how we expand this sentence," he said. "Let me model it for you. Let's say a student has written the sentence, 'You'll see elephants.'
TEACHER: How can we elaborate this sentence and help the audience understand?
STUDENT: Well, the elephants walk around. Then they stand on their hind legs. They also make a loud noise like a trumpet.
TEACHER: Oh wow, I can visualize that so much better. I love the details. Can you put all of it into one sentence?
STUDENT: Elephants parade, stand on their hind legs, and trumpet majestically.
"Obviously," Mr. Brock it would take a little more discussion to get this great sentence, but I think you can see what I mean."
The teachers nodded.
Sentence Beginnings
Next, Ms. Sneed spoke up. "Many years ago a colleague told me a little writing trick. Just ask kids to begin every sentence in a paragraph differently. So simple! And like magic, writing improved. Even the weakest writers can use this trick to make their compositions sound better."
Mr. Kalamata nodded and smiled. "Carol?" he said.
Hook & Wrap-Up
Mrs. Lewis moved to the document camera. "In addition to the opinion, or topic sentence, kids can hook their audience with a powerful beginning. As you can see, some possible strategies for argumentative writing. They include opening with a question, dialogue, or a surprise statement."
She read the examples from the page:
Question – Would you like to see what's inside that tent?
Dialogue – Come one, come all, to see the most amazing sights in the universe.
Surprise statement – Lions, tigers, and bears are roaming the town!
"Actually," Mrs. Lewis continued, "I encourage my students to use onomatopoeia and set the stage, as well."
Changing the display, she added, "For a bigger challenge, I ask them to match the hook with a concluding statement. In other words, an additional sentence at the end wraps up with a parallel idea. For example, if a student asks a question at the beginning, he would answer it at the end. If he opened with dialogue, he would also close with dialogue. This framing technique makes the piece much more powerful."
"Thanks! I'd never thought of that," commented Ms. Sneed. She busily copied the idea into her notebook.
Transitions
"As you know," said Mr. Kalamata, "our standards require kids to use transitions, or linking words."
As he distributed a page, he continued, "This list can be used all year long. Seriously, you do not need to reproduce it. Just hang it somewhere in your room and encourage kids to use it often. If too many kids are trying to use it at once, display several copies in different locations. Mr. Grow will present a little more on this topic."
The student teacher moved over to the document camera. "Our students didn't always understand how to use transitions. Additionally, we didn't want them looking at the list all the time. So we came up with a different strategy. Our kids ask how, when, and where. Then they add phrases to sentence beginnings. These provide transition, or as we like to call it, flow. Writing with lots of transitions flows. Why? Because it's purposely linked together."
He read the examples from the page:
How – In a bellowing voice, the ringmaster announces the act.
Where – In the center ring, the ringmaster announces the act.
When – At just the right moment, the ringmaster announces the act.
Sentence Types
Mrs. Walton stepped up next. "We already discussed varying sentence beginnings," she said. "But you should also encourage kids to switch up sentence types. Simply stated, they just throw in a question, exclamation, command or two. With persuasive writing, that comes naturally. Only one caution: Don't use too many different kinds of sentences. Sadly, that makes it sound sappy." Her colleagues chuckled.
Sentence Lengths
Mr. Kalamata took the floor again. "Finally, you can ask kids to vary sentence lengths. In my experience, only strong writers at these grade levels can tackle this. But for them, it's magical! Here's how it works. Explain that long sentences flow and short sentences punctuate. Point it out in texts you're reading. Then let them try it. They can make longer sentences by combining two that are related. Furthermore, a short sentence can simply be an interjection."
Once again, Ms. Sneed busily wrote the idea in her notebook. "Why don't we do this more often?" she thought. "I'm becoming a better at teaching argumentative writing by the minute."
Teaching Argumentative Writing in Upper Elementary Grades
Mr. Kalamata opened a second folder and distributed a parallel sheet. "This page shows scaffolding of argumentative writing from fourth to fifth grade."
Argumentative Paragraph
As he walked around the room, the curriculum coordinator continued. "As you can see, we begin with a single paragraph here too. Don't be afraid to stick with it until kids master it. Even if you're a fifth grade teacher.
"Fortunately, somewhere in the middle of fourth grade, some students will outgrow the one-paragraph format. Their paragraphs become simply too long to be allowed. You'll know that it's time to move them to the five-paragraph essay."
Five-Paragraph Argumentative Writing
Mr. Kalamata pointed to the organizer now displayed on the screen. "While many organizers do the trick for teaching argumentative writing in five paragraphs, this is my favorite. Kids use the same format that they employed for one-paragraph persuasive writing: opinion-reason-reason-reason-call to action. Similar to the single paragraph essay, the introductory paragraph contains the opinion, or thesis, as well as the three reasons. After that, each reason gets its own personal paragraph. This allows proficient writers to expound on each. Then, at the end, the reasons are repeated again – in different words, of course – and the audience is called to action."
Several of the teachers nodded in understanding. "Wow," said Mr. Grow, "I never knew that the structure was so clear. Now the leap from one to five paragraphs makes total sense to me."
Persuasive Techniques
"In fourth and fifth grades," continued Mr. Kalamata, "kids can also begin thinking about persuasive techniques. Again, some students will be ready to try this in their argumentative writing, and others will not." He displayed another page. "Selecting a specific technique and sticking with it through the entire piece will establish tone."
Transition Sentences
Mr. Kalamata sighed. "We're getting into some pretty sophisticated stuff for upper elementary writers now," he said. "You can tuck this away for your truly precocious kiddos. When they're done early – and their work already looks spectacular – it's time to talk about transition sentences. When added to the end or beginning of a paragraph, they purposely link ideas from paragraph to paragraph. I've sent you a link to explore transition sentences more deeply."
Some of the teachers looked at one another anxiously. The presenter was really pushing their limits.
Six-Paragraph Essays
"Yep. I get it," said Mr. Kalamata. "You are generalists, not English majors. But these tools will help you when teaching argumentative writing. This way, you'll meet the needs of your most able students.
"Now we'll move onto the final challenge: the sixth paragraph. When one or more of your kids are ready, you can talk about addressing the opposition. In this case, they will add an extra paragraph to their argumentative writing – after the third reason. In it, the writer will state the opposing opinion. And then the writer will tear that opinion apart. Kids love it! Not only can they express their opinion, but they can also explain why someone else is wrong."
Some of the teachers giggled. True. Their students would love that.
"Okay, you look exhausted," said Mr. Kalamata. "Time to give you a rest. However, one more thing. I've shared a link with an exemplar and questions. It's a high-level persuasive essay that includes a sixth paragraph. If and when the time comes, you can use it to show your high flyers how it works."
A tentative smile crept across Ms. Sneed's face. Yep, Mr. Kalamata had pushed her limits. But that helped her learn to be a better teacher.
Parallel Process-Based Prompts
One by one, the teachers stood up and stretched. "As you head toward the snack table," Mr. Kalamata announced, "don't forget to take a look at the prompts that the district has purchased for you. Parallel one- and five-paragraph argumentative writing resources will allow you to differentiate for students in your class."
Activities can be purchased separately.
Activities can be purchased separately.