Expand your Cinderella thematic unit! Something magical will happen. First, read and compare fairy tales from around the world. Second, sprinkle in some parody. Next, try some fun activities. As the grand finale, let kids write their own Cinderella stories.
Ms. Sneed Plans a Cinderella Thematic Unit
Our favorite fourth grade teacher sat at the side table with her student teacher. "Let's continue planning our ELA block," she said.
"This whole genre study began," she continued, "with a standard. Common Core State Standard RL.4.9 asks us to compare stories from different cultures. What better way than through Cinderella stories?"
Mr. Grow nodded. "I agree. People have recorded hundreds – if not thousands – of Cinderella stories from around the world."
Helpful Lesson Plans
"Fortunately," Ms. Sneed continued, "I was able to snag a set of Cinderella thematic unit lesson plans. These incorporate reading and writing." She slid a paper across the table so Mr. Grow could look on.
"As you can see, kids first read a traditional French folktale like "The Glass Slipper." Then they explore elements of the story. Next, the class reads another folktale. After that, they begin a comparison chart. Pretty soon, they understand that these tales have certain similarities.
"Once they've established common elements of traditional Cinderella stories, the class reads a parody. Kids love this! Again, they compare.
"This prepares them for writing their own Cinderella parodies."
Begin Your Cinderella Thematic Unit with Traditional Literature
"So, first things first. We'll begin our Cinderella thematic unit with traditional fairy tales. The genre study outlined in these lesson plans offers a two-page printable adaptation of the 'Cinderella, or the Glass Slipper.' I've found it to be more kid-friendly than the Charles Perrault version."
Ms. Sneed pointed to the stack of books on her desk. "After reading that story, we'll continue with more. When I visited the library, Mrs. Campbell helped me find a ton of picture books. In addition to Cinderella, she loaned me titles like Yeh Shen, Mufaro's Beautiful Daughters, The Rough-Face Girl, Cendrillon, Little Gold Star, Smokey Mountain Rose, and The Golden Sandal."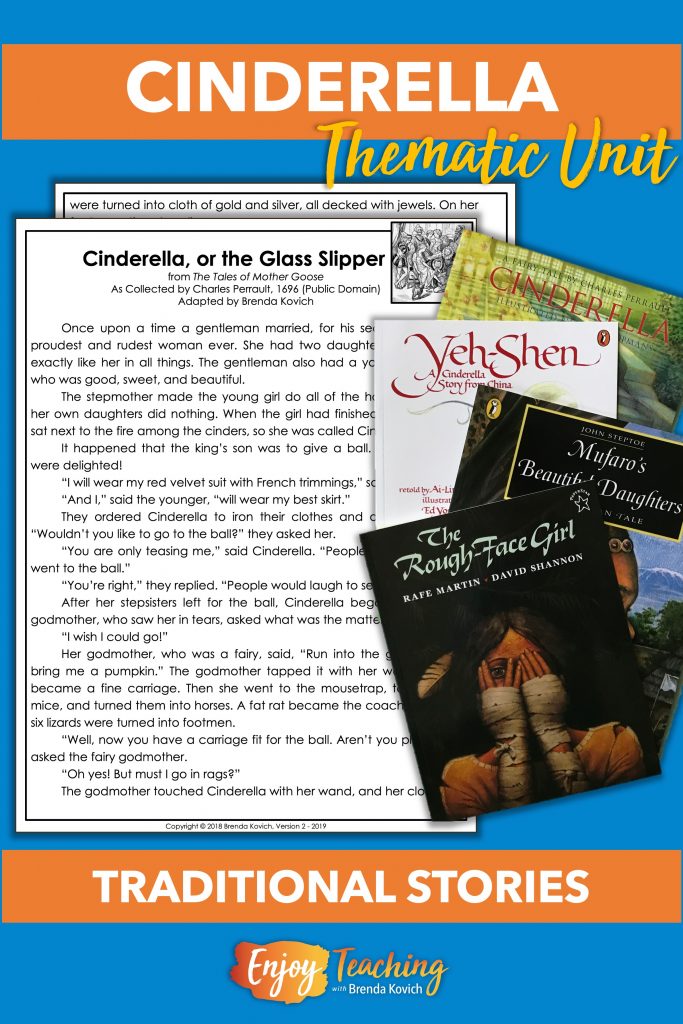 Compare Story Elements
Mr. Grow picked up the book on the top and paged through it. "Cool," he said, "but what will we do with them?"
"Compare story elements," his mentor replied. She pulled a comparison chart out of her bag.
"I've done this activity for years, and I love it! When we begin our Cinderella thematic unit, I keep the books on my desk. Each day, I read one aloud. Then together we identify the down-on-their-luck main character, evil relatives, special event, magical helper, lost item, royal sweetie, and happily ever after."
Ms. Sneed looked up at Mr. Grow and smiled. "Let's see if you can name them for the popular version you remember."
"Haha. Okay, here goes:
Main character – Cinderella (definitely down on her luck)
Evil relatives – stepmother and stepsisters
Special event – ball
Magical helper – fairy godmother
Lost item – glass slipper, of course
Royal love – Prince Charming
Happily every after – marriage."
"Good job!" She slid another paper toward him. "If we want, we can also map where the stories came from. In additional activities, kids can analyze stories even further to see if versions told on the same continent are more similar."
Add Parody to Your Cinderella Thematic Unit
"Then, Ms. Sneed continued, "we'll introduce the kids to parody. The genre study includes an original story, 'Daisy Della,' and we'll add more picture books."
She pointed to another stack of books. "Kids really eat these up. We'll continue locating and comparing elements. But these books will also prepare students for writing their own stories later."
"These look like a lot of fun," said Mr. Grow. He read off some of the titles: "Dinorella; Bubba, the Cowboy Prince; Bigfoot Cinderrrella; Cinder Edna."
Write!
Ms. Sneed's eyes twinkled. "Sure, I love reading and comparing the stories," she said. "But in my opinion, no Cinderella thematic unit is complete without writing! For this project, we'll take kids through the entire writing process:
First, they'll brainstorm and choose a from a variety of subjects, or motifs. For example, in the past, my students have chosen sports, nature, hobby, and even food themes. One time a student wrote a story called 'Mozarella,' and all the characters were types of cheese. For this project, kids can really let their imaginations run wild.
Second, they plan – using the elements we've been working on. Stories feature down-on-luck main characters, evil friends or relatives, special events, magical helpers, lost items, royal sweeties, and, of course, a happily ever after.
Third, we'll work on dialogue. That means review, practice, and then writing direct quotes that fit with characters' personalities.
Fourth, kids will improve word choice. As usual, we'll be looking for concrete and sensory words, as well as transition terms. A little figurative language is also welcome.
After drafting, kids will do some peer editing.
Then they'll finalize their stories. The format is up to you this year. Sometimes kids write on one page and illustrate on another. Then we hang them side-by-side. Other times, they publish actual picture books.
"Either of those sound wonderful," Mr. Grow replied. "Maybe I'll even let the kids decide."
Make Your Cinderella Thematic Unit Even More Fun
For a moment, both teachers sat back and pondered the fabulous Cinderella thematic unit they'd soon undertake.
"I know this is a lot to take in," Ms. Sneed continued, "but you'll love these." She pulled out three Cinderella activities. "To explore elements with a hands-on twist, let kids build a story element cube. For a more engaging character analysis, try a Facebook-like approach.
"My favorite, though, is this carriage activity. It oozes creativity. Kids draw and/or write about the mode of transportation for characters with different careers. For example, in this example, Cinderella is a scuba diver."
"Fantastic!" Mr. Grow exclaimed. "I will definitely use it."
Consider Extensions
Ms. Sneed opened her laptop. "I'd like you to take a look at the entire Cinderella bundle. In addition to stories, comparison activities, writing, and enrichment, it also has some standards-based worksheets. If we extend the unit to three weeks, we can reinforce summarizing, finding a theme, and describing characters."
As Mr. Grow looked at the files, he chuckled quietly. "Ah, the decisions a teacher must make," he murmurred.