Teaching cinquain? This five-verse poem has 22 syllables. Actually, any poem with five lines can be called a cinquain. However, Americans often use the version popularized by Adelaide Crapsey. Its verses have a pattern of two, four, six, eight, and two syllables.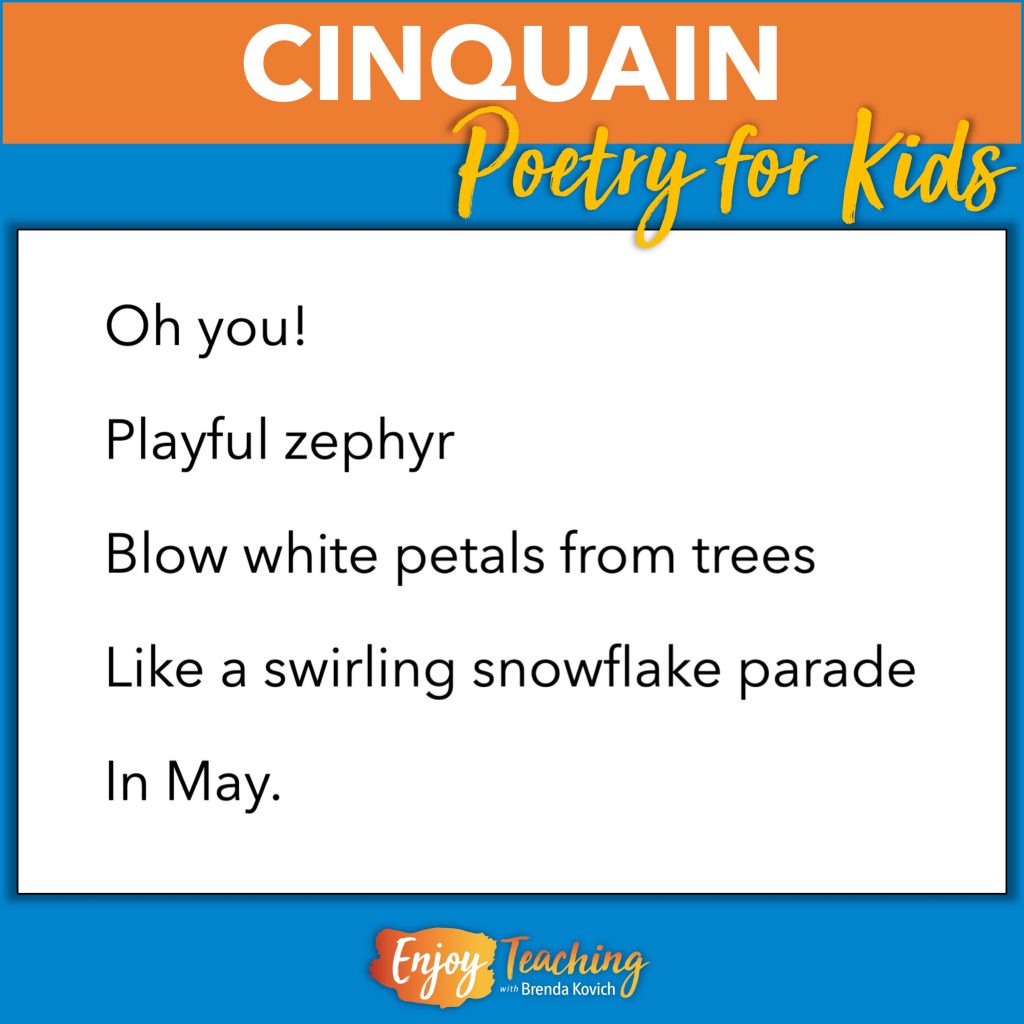 Ms. Sneed Prepares for Teaching Cinquain
Once again, Ms. Sneed sat at the side table with her student teacher. "It's time to expand our unit on types of poetry," she said. "Let's teach cinquain."
"I know that's five-line poetry," Mr. Grow responded, "but I'm not really clear on the format."
"Actually, cinquain describes any five-line poetry. However, we generally use the structure popularized by a famous poet, Adelaide Crapsey."
Begin Teaching Cinquain with an Example
Next, Ms. Sneed pulled a set of papers from her teacher bag. After sorting through them, she pushed one page toward Mr. Grow. Then she read the poem aloud:
Oh you!

Playful zephyr

Blow white petals from trees

Like a swirling snowflake parade

in May.
"Pretty," said Mr. Grow. "It doesn't use the typical elements of poetry we've been teaching. Instead, it sort of reminds me of haiku."
"Yes, I read somewhere that Adelaide Crapsey used haiku as an inspiration for her cinquain."
"So to begin teaching this type of poetry, I begin with this poem?"
"Yes, I think the kids should hear – and see – one cinquain first." With that, she handed the page to her student teacher.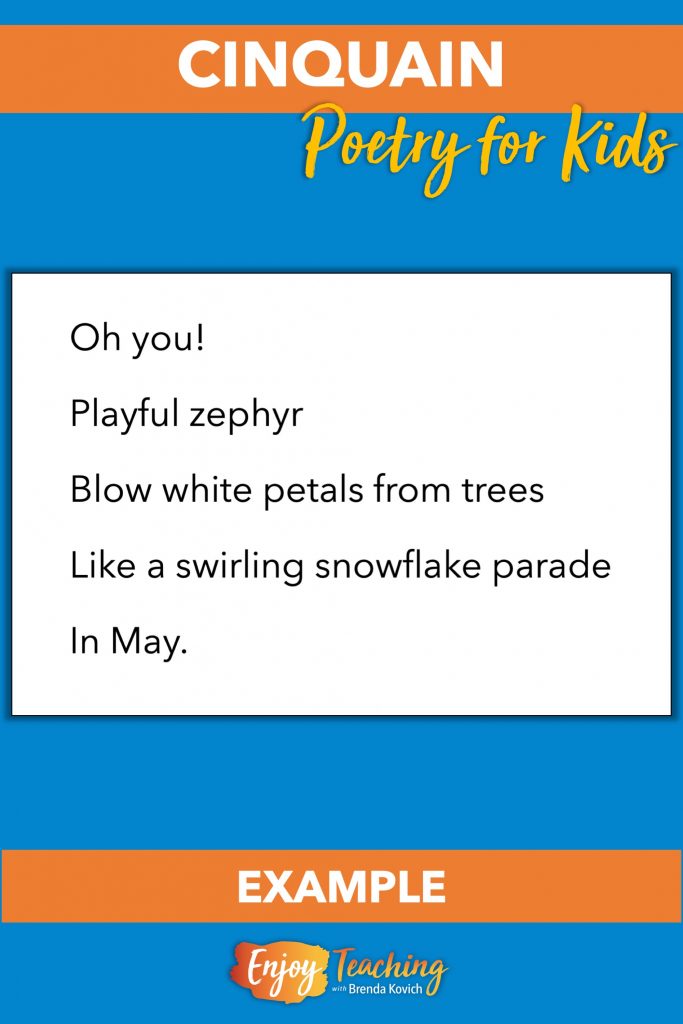 Explain the Format
Then she pulled out a page that clearly explained cinquain's format. "This sheet clearly defines what we want our kids to do. As you discuss it, have them clap out syllables. I'd suggest using single words first.
"For example, cin – quain." She clapped the syllables as she spoke. "See? Two syllables.
"Syl -la-ble. Three syllables.
"You'll need to do this quite a few times. Surprisingly, it's difficult for some students."
Mr. Grow pointed to the sample poem. "What about clapping this out?"
"Absolutely. Great idea."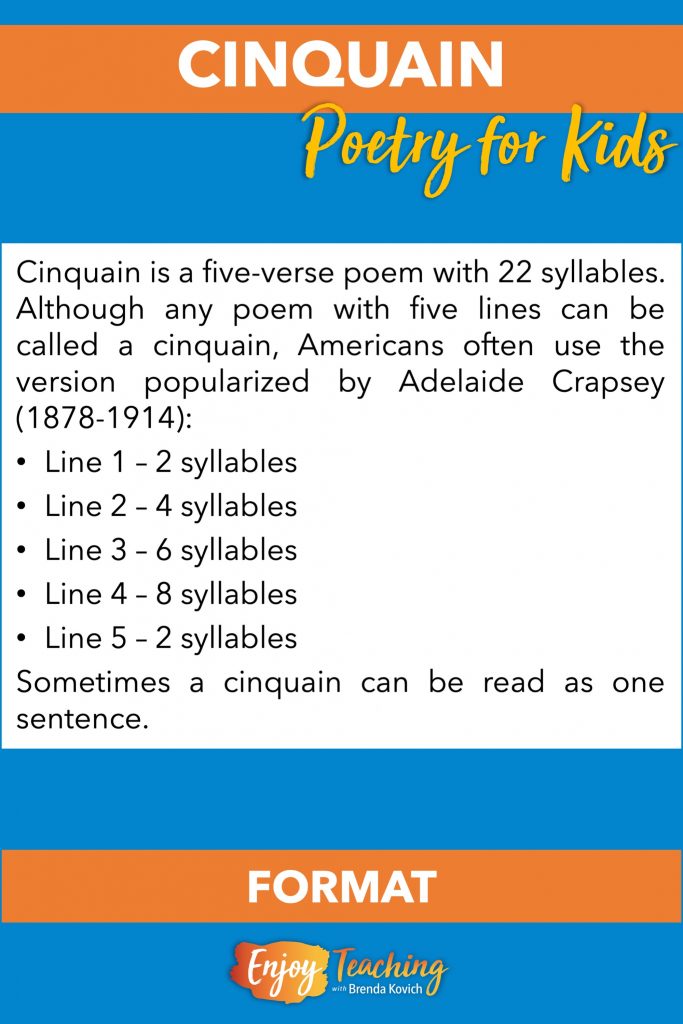 Ask Kids to Write Cinquain Poetry
Selecting a Format
Pulling out a few more pages, Ms. Sneed continued. "Although the structure of cinquain remains 2-4-6-8-2, it can be left-justified or centered. This resource offers both. Therefore, you can choose whichever you like."
Mr. Grow looked at the poetry templates. "Hmm. I think I like the one that's justified on the left."
Choosing a Topic
"Additionally, you'll discuss topic selection. When writing cinquain, simple concepts work best. Kids should choose something familiar. For example, nature inspires great poetry," said Ms. Sneed.
"What if they want to write about something else. Alex, for example, will certainly want to write about baseball."
Ms. Sneed chuckled. "I say go for it. Any familiar topic will work."
Using Figurative Language
Mr. Grow looked at the sample poem again. "I see that this poem uses a lot of figurative language. For example, the zephyr is definitely personified. And here – 'like a swirling snowflake parade' – the poet uses simile."
"Good observation. Yes, by all means, review similes, metaphors, onomatopoeia, personification, alliteration, hyperbole, etc. And encourage kids to use them!"
"Imagery too," Mr. Grow said. "As a matter of fact, I believe that great cinquain evokes imagery."
Now Ms. Sneed grinned. Yep, this student teacher was on his way to becoming a master teacher.
Extend with a Cinquain Butterfly
Only one page remained in front of Ms. Sneed. "For the grand finale, you can ask kids to write butterfly cinquain."
She slid the paper to Mr. Grow. "As you can see, it's not really cinquain at all. Instead, it's two poems joined as one. In all, this poetry has nine lines."
Mr. Grow's eyes sparkled. "Hey, this offers a great challenge. Not only that. These poems will make a great bulletin board. First, kids can write them with this template. Then they will transfer them to colored paper and illustrate them."
"Perfect," said Ms. Sneed. "You know that I believe in displaying instead of decorating!"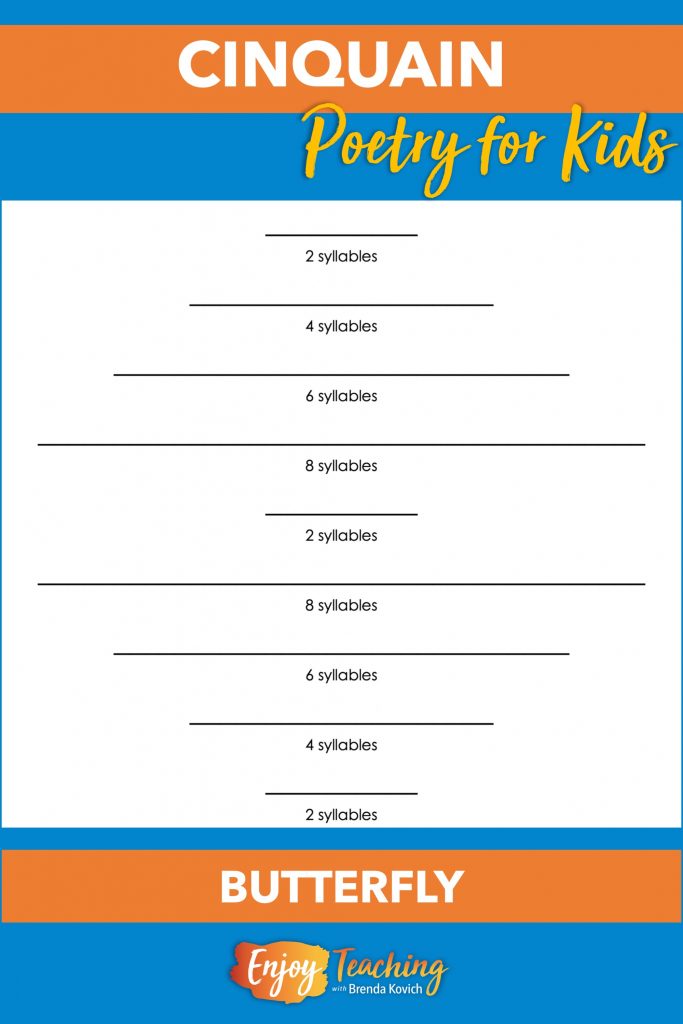 Enjoy Teaching
As Ms. Sneed drove home from school that afternoon, she reflected on the day. Working with a novice teacher made her enjoy teaching more than ever. For one thing, it allowed her to share her craft. And for another, the young educator brought his own great ideas. Of course, fun lessons made it even better.