Developing a prototype and testing it is the fun part of the engineering design process. Kids in third, fourth, and fifth grades design and build a model. Then they try it out and identify failure points.
Developing and Testing a Prototype – the Engineering Design Process
Our favorite fourth grade teacher sat at the side table with her student teacher. "Today," she said, "we'll continue our plans for the engineering design process."
"Right," Mr. Grow replied. He glanced at his plan book. "First, we worked on defining a problem with criteria and constraints. Second, we planned for generating a solution, as well as choosing the best one."
"And now we'll talk about developing and testing a prototype."
Mr. Grow sat up a little straighter. "Wow, that sounds like a lot of fun."
His mentor smiled. "Yes, it is."
An Introduction to Developing a Prototype
After reaching into her teacher bag, Ms. Sneed pulled out three pages. "You've already read the first four pages of this ten-page engineering design story," she said. "In the first two, a boy named Calvin defined a problem. Then, in the second two, he generated and selected solutions. Now you can read the next three. In them, Calvin works on developing a prototype. Then he tests it."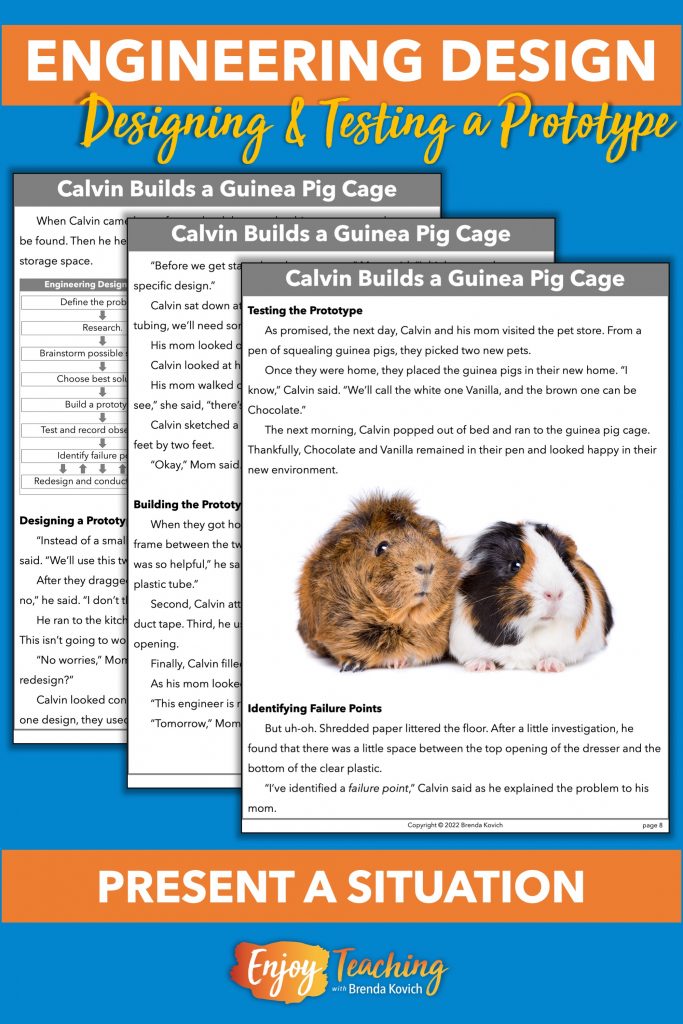 Identifying Failure Points
After Mr. Grow read the story, he laid the papers down. "I noticed that the term failure point appeared several times."
Ms. Sneed nodded. "As kids work on developing and testing prototypes, identifying failure points is really important. At first, Calvin's cage didn't meet the criteria for size. However, he cleared that up before building. Afterward, he identified another failure point: paper was falling onto the floor. In the next phase of the engineering design process, he will conduct a fair test to address the problem."
Mr. Grow looked a little uneasy. "No worries," said his mentor, "plenty of time to learn about fair tests the next time we meet."
The student teacher sighed. Then he chuckled. "But Calvin actually did build a guinea pig cage."
"Yep. Actually, our students will work on developing a prototype too."
Developing a Prototype on Paper
Ms. Sneed pulled out another sheet of paper. "Undoubtedly, as they read this story, our kids will have their own ideas. Although they won't actually build it, they'll work on developing it on paper."
"Cool," her student teacher replied.
Developing an Actual Prototype in the Engineering Design Process
Next, Ms. Sneed opened her laptop. "Once again, we'll jump ahead. Let's talk about what happens in our first full-blown attempt at the engineering design process."
She pointed to the screen. "In this STEM activity, students design an earthquake-proof building. This integrates engineering with a science topic. They will be developing a prototype using blocks and play dough. Then they will test it."
"And identify failure points," Mr. Grow chimed in.
"Right. Here you see two pictures of prototypes kids might build."
"Super fun."
"You got that right."
Enjoy Teaching
"When the kids have fun, I have fun," said Mr. Grow.
"Agreed. Engaging, hands-on science activities make me enjoy teaching so much more. And, of course, developing and testing prototypes is a blast! Soon our kids will be ready for the ten STEM challenges I like to use throughout the year."