Looking for Great Lakes activities for kids? Take an interdisciplinary approach. Your students will love learning about Lake Superior, Lake Michigan, Lake Huron, Lake Erie, and Lake Ontario. Better yet, you'll tackle important reading, writing, science, and social studies standards.
Ms. Sneed Plans Great Lakes Activities for Kids
Our favorite fourth grade teacher, Ms. Sneed, pulled out her Great Lakes unit. "Let's work together to create two weeks of interdisciplinary lesson plans," she said to her student teacher, Mr. Grow.
"Okay, you talk, and I'll take notes," he replied.
Geography of the Great Lakes Region
"Our unit begins with a little geography. The first thing we'll teach our kids is how to remember the names of the lakes – HOMES."
Mr. Grow looked a little confused.
"You know, an acronym: Huron, Ontario, Michigan, Erie, Superior. HOMES."
"Now I get it," he said.
Ms. Sneed pulled out a file folder and handed it to her student teacher. "Practice sheets, a quiz, and spelling resources can be found in Great Lakes Geography."
As he thumbed through it, she continued: "This part won't take much class time at all. Just a few minutes at the beginning of the unit to distribute the practice sheets – and a short period to give a quiz at the end."
Facts About the Great Lakes
"Our students love digging into short research projects," Ms. Sneed continued. "This year, they'll collaborate with four others to make a booklet with information about the Great Lakes states. I anticipate that this will take about four days."
Ms. Sneed handed another file folder to Mr. Grow. "As you can see, after they complete their booklets, they'll also do some comparing."
"These graphs are great," her student teacher said. "I love the way we're hitting math through these Great Lakes activities."
"Yep." Ms. Sneed smiled. "Truly an interdisciplinary unit."
Great Lakes Geology Activities for Kids
"We'll study both land and water for the science portion of the unit. Let's discuss geology first." She handed him another folder.
"Glaciers carved out the Great Lakes Basin. We'll watch a video (3:43) for an overview. To understand what lies beneath our feet, the students will first study geological eras, then use maps to see how the glaciers revealed layers created millions of years ago. After that, they'll learn about two ways scientists study the past: core sampling and fossils."
"Sounds pretty sophisticated," said Mr. Grow.
"You're right. But you'll be surprised at how quickly kids this age can understand layers of earth. We'll dedicate the first week to this geology unit."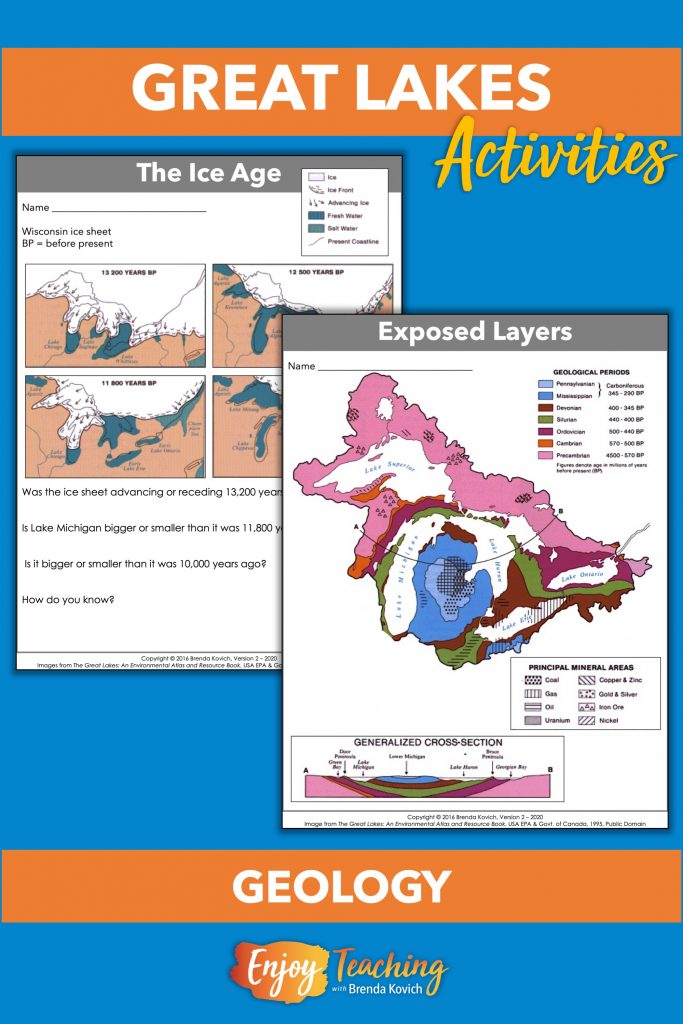 Great Lakes Hydrology
Ms. Sneed handed over yet another folder. This one was labeled "hydrology."
With a small smile, she said, "More Great Lakes activities for kids."
Then she launched into an explanation: "The are huge, but water in them doesn't move like an ocean. They experience no tides. Like other lakes, stratification occurs in winter and summer, and the water turns over in spring and fall. Water flows from Lake Superior in the northwest to Lake Michigan and Lake Huron, through Lake St. Clair to Lake Erie, over the Niagara Falls to Lake Ontario, and down the St. Lawrence River into the Atlantic Ocean.
"Our kids will learn about this as they read a short novel – which we'll talk about in a minute. In the next unit, they'll work on a few basic concepts: the hydrosphere, evaporation and the water cycle, and even pollution. All of this will occur the second week."
Ms. Sneed looked at Mr. Grow's plans. Together, they looked at the Great Lakes activities and pencil each one in.
Paddle-to-the-Sea
Finally, Ms. Sneed pulled out the last folder. She handed it to Mr. Grow with a picture book, Paddle-to-the-Sea.
"This book really ties it all together," she said. "It tells the story of a wooden canoe carrying a paddle-person. It travels throughout the Great Lakes, teaching kids along the way. As you can see, each page features intricate drawings to illustrate science and social studies concepts. On the facing page, Holling has added a beautiful watercolor of the setting."
"Phenomenal," remarked Mr. Grow. "I've never seen anything like it."
Ms. Sneed nodded. "It's a real gem. Furthermore, figurative language appears everywhere. The templates for this novel study help kids master similes, metaphors, personification, and onomatopoeia."
Lesson Plans – Great Lakes Activities for Kids
"It sounds like a busy two weeks!" Mr. Grow commented.
"Just the way I like it! Now let's type up these plans." In no time, they had created a schedule.
Ms. Sneed smiled slyly. "I'd like to show you one more thing. I've created a website that supports these Great Lakes activities with text, images, video, and more. I'll send you the link."
"I can't wait to get started on this!" Mr. Grow exclaimed. Teaching with Ms. Sneed was always an adventure. Her love of teaching was contagious.