Check out these Great Lakes activities and learning links. These lakes are huge! Your kids will love learning about Lake Superior, Lake Michigan, Lake Huron, Lake Erie, and Lake Ontario.
In my class, students explore geography, geology, and hydrology of the Great Lakes. I hope your students enjoy these activities too. To explore these links (and more) in one handy place, go to Great Lakes for Kids.
Great Lakes Activities – Geography
Our unit begins with a little geography. Students use Internet resources to complete a Great Lakes scavenger hunt then practice with this Quizlet practice set.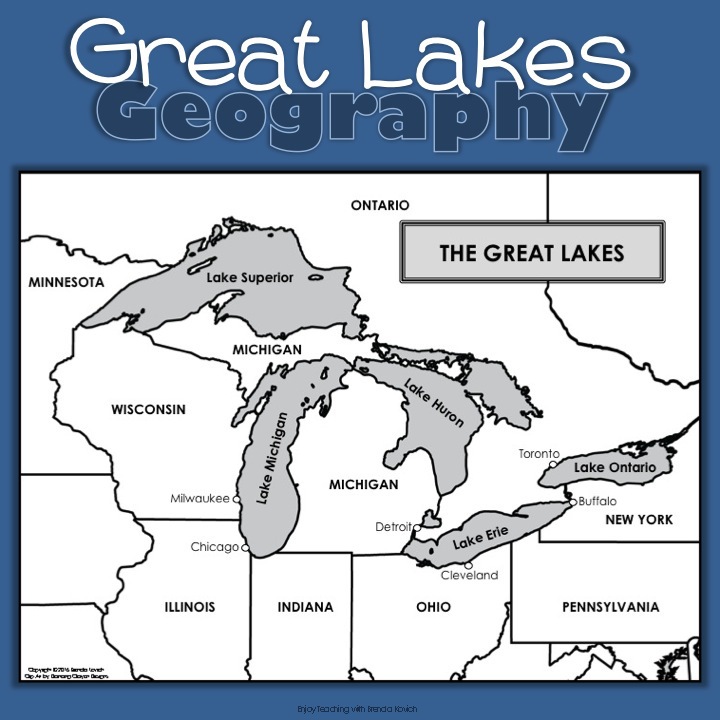 More resources, including the scavenger hunt, quiz, answer key, and spelling resources can be found in Great Lakes Geography. For more practice (and some fun), try to identify large lakes in the USA.
Facts About the Great Lakes
My students love digging into short research projects. This year, they'll collaborate with four others to make a booklet with information about the Great Lakes states. Here's an example for Lake Michigan. For safe and easy data collection, this clickable page takes kids directly to the correct pages of the GLIN (Great Lakes Information Network) site.

Geology of the Great Lakes
Glaciers carved out the Great Lakes Basin. Watch this video (3:43) for an overview. To understand what lies beneath our feet, my students will first study geological eras, then use the maps below to see how the glaciers revealed layers created millions of years ago. After that, they'll learn about two ways scientists study the past: core sampling and fossils.
These maps were taken from The Great Lakes: An Environmental Atlas and Resource Book. This free resource was created by the United States Environmental Protection Agency (EPA). Just click to get your copy.
Hydrology of the Great Lakes
The Great Lakes are huge, but water in them doesn't move like an ocean. They experience no tides. Like other lakes, stratification occurs in winter and summer, and the water turns over in spring and fall. Water flows from Lake Superior in the northwest to Lake Michigan and Lake Huron, through Lake St. Clair to Lake Erie, over the Niagara Falls to Lake Ontario, and down the St. Lawrence River into the Atlantic Ocean.
In addition to studying water movements, my class plays with water to make generalizations about its properties, explores the water cycle, experiment with eutrophication, and discover the differences between salty and fresh water.
All of these links and activities are stored in one website: Great Lakes for Kids. Related activity sheets and assessments may be purchased in my Great Lakes Unit.
You can get my weekly blog posts delivered to your inbox. Just follow me on Bloglovin'. Enjoy!