Looking for a complete set of mythology lesson plans? Try this set! As kids read The Lightning Thief, they learn about characters, point of view, patterns in literature, allusions, and argumentative writing.
Mr. Grow Gets Some Complete Mythology Lesson Plans
Our favorite teacher, Ms. Sneed sat in the conference room with her former student teacher, who now taught sixth grade. "Are we working on the myth genre study today?" asked Mr. Grow.
His mentor nodded and pointed toward her open laptop. "Since we last met," she said, "I found this free mythology lesson plans. As you can see, it gives you a five-weeks of activities."
The Novel Study at the Core of the Mythology Lesson Plans
"As kids read The Lightning Thief by Rick Riordan," she continued, "they learn more about myths and delve into ELA concepts."
She clicked to display the novel unit at the core of the mythology lesson plans. "As you can see, kids complete one-page templates for each chapter. First, they learn about a mythological character. Then they explain the title of the chapter. (The author has given each a clever twist.) Finally, they answer a comprehension question and define a few vocabulary terms.
"I've actually used this for some of my better elementary readers in the past. To be honest, I didn't require kids to complete each worksheet on their own. Instead, we did some together, or kids worked in groups."
"This format is great for my students," Mr. Grow responded as he studied a few pages. "And if we read the first book, I hope they'll continue with the entire Percy Jackson and the Olympians series."
Characters from Greek Mythology Banners
"In the first related activity," Ms. Sneed continued, "kids learn about gods, goddesses, heroes, and creatures." Now she clicked to show her mentee a research project.
Mr. Grow pointed to the resource. "Nice, simple research project," he said. "I like these banners for my middle school students. Not too cutesy. But creative."
Allusions to Greek Mythology
"The mythology lesson plans also include allusions, or terms that refer to characters from myths."
She opened another file. "Using a slideshow or cards, you introduce each term. At the end of the unit, they take a test."
Mr. Grow nodded his approval. "Great for building vocabulary and cultural literacy," he said.
The Quest
"In the next part of the mythology lesson plans, kids read myths about Perseus and Theseus. My favorite part is when they develop the definition of the quest themselves."
Mr. Grow's eyes widened. "Constructivism at its best. Critical thinking. This myth unit is getting better and better!"
Perspectives in Literature
"For the next few days, they read two pieces about Medusa. One is a humorous poem; the other is written as a serious narrative."
Mr. Grow peered at the screen. "Kids compare the author's point of view. And it looks like they can even write their own piece from a different perspective."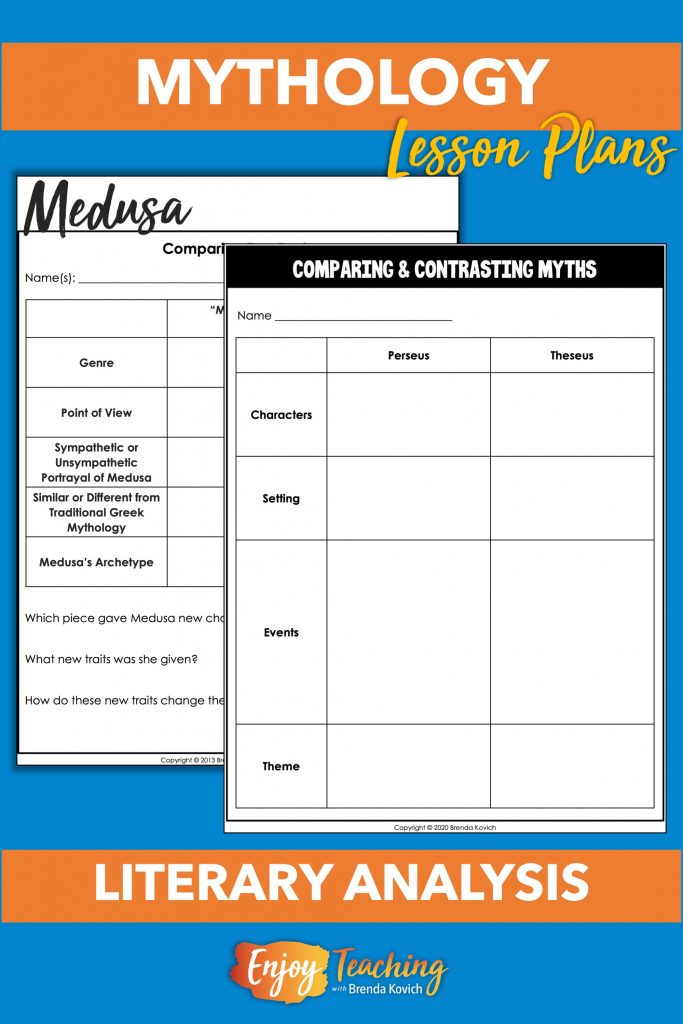 Argumentative Writing
"During the final week of the mythology lesson plans, kids write two argumentative pieces. First they explain which character from Greek mythology they'd invite to dinner. Then they persuade the audience to vote for another for president."
"Five-paragraph essays!" exclaimed Mr. Grow. "Yahoo! My students need to scaffold to this skill. The organizers lay it out perfectly. And look at all of the strategies they'll use to improve their writing."
Mythology Lesson Plans – and a Complete Unit of Study!
The younger teacher turned to his mentor. "You know, I could use these mythology lesson plans to develop some new materials myself. But I think it's worth it to just buy the entire set. There's more than enough for a complete unit. What a time saver."