Varying sentences improves style. When kids feel finished with their writing, it's time to shake things up. First, begin every sentence in a paragraph differently. Second, vary sentence types. For more advanced writing, experiment with sentence length.
Do you want your students' writing to shine? Then try these sentence shake-ups. When the work is done, you'll be amazed at the difference.
Varying Sentences – Beginnings
Ask young writers to begin every sentence in a paragraph differently. This little habit improves style instantaneously!
Varying Sentences – Types
Throwing in a question or exclamation jazzes up a paragraph. In a persuasive paragraph, kids can also use commands. Often, changing just one sentence does the trick. Use this strategy sparingly.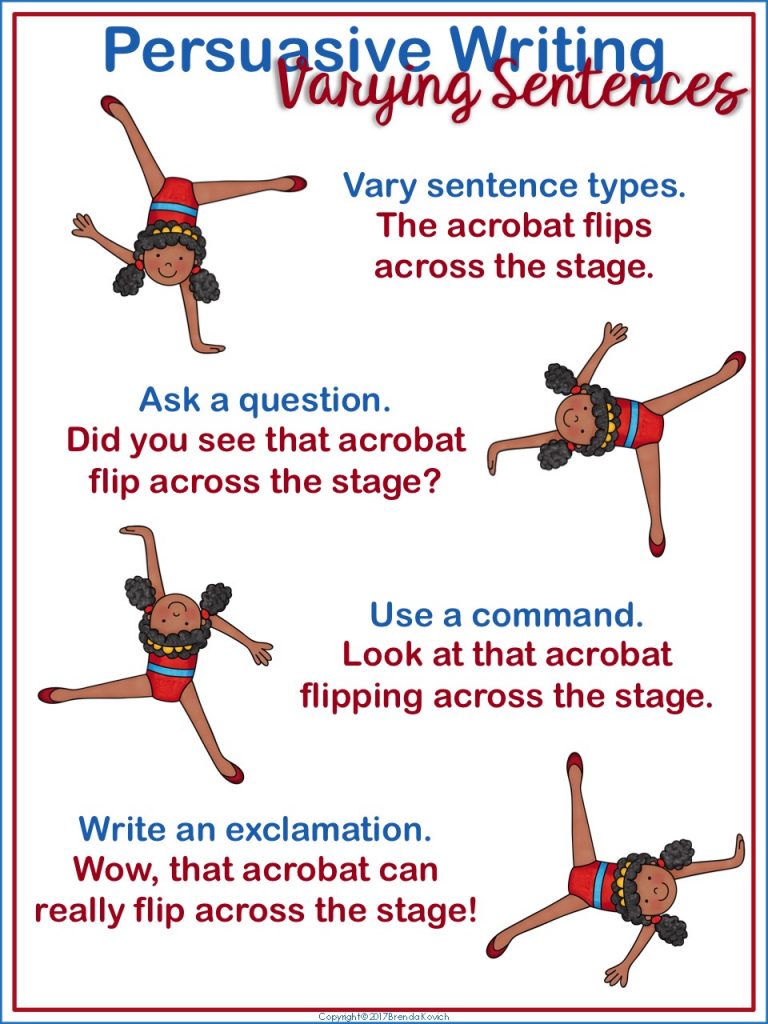 Varying Sentences – Length
What happens when a paragraph is filled with standard-length sentences? Yep, it's choppy. Boring, even. Kids can avoid this with long and short sentences.
When kids explain, they should use longer sentences. How can this be achieved?
Combine related sentences.
Add a phrase or clause.
Get descriptive – add more to the sentence.
To punctuate, try short sentences. These little gems make the audience stop dead in their tracks. They'll really notice what you're saying. To achieve this, use brief commands, interjections, or stripped-down sentences. Where does this strategy work best? In persuasive writing, end with a short, pointed call to action.
Persuasive Writing Series
Yes, you can help kids improve their writing! Learn more about teaching persuasive writing in these blog posts:
Looking for related instructional materials? Try these circus-themed video, anchor charts, modeling, and student sheets. You'll find them in my Teachers pay Teachers store.
Circus clip art was created by Kate Hadfield.
You can get my weekly blog posts delivered to your inbox. Just follow me on Bloglovin'. Enjoy!