Looking for mystery writing activities for kids? They'll love writing full-length mapped mysteries. But if you want something a little different – or are running short on time – try a paper bag detective story or mystery pictures.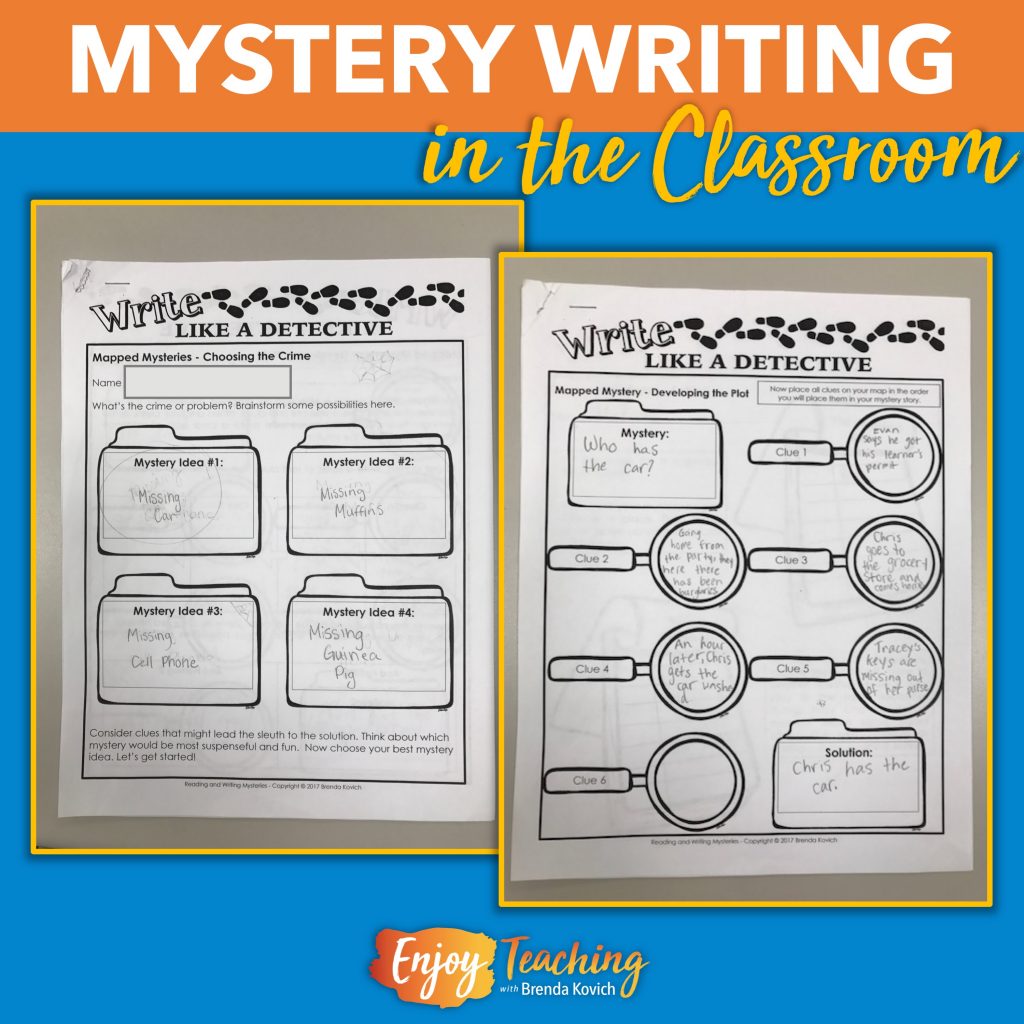 Ms. Sneed Culminates Her Unit with Mystery Writing Activities
Our favorite fourth grade teacher, Ms. Sneed, was ready to wrap up her mystery unit. "Whew! Our students have done so much. In addition to learning elements and vocabulary, they've read short mysteries and done a ton of fun detective activities."
Her co-teacher, Mr. Frank, smiled and nodded. "Yep, they sure did love fingerprinting, invisible ink, secret codes, observation activities, and logic puzzles."
"Not to mention the novel study," Ms. Sneed inserted. "Now let's add some mystery writing activities to our ELA block!"
"I'd like my kids to write full-blown detective stories," said Mr. Frank.
"Okay, let's get started."
Begin by Mapping Stories
"We've already taught them how to map a mystery," Mr. Frank continued. "So they understand the elements:
something missing, a crime, or another unknown
solid clues that lead the reader to the solution
red herrings (false clues) that make the story ambiguous, or unclear
a main character who is not the suspect
suspects who have motives, or reasons to have done it, as well as opportunity"
"Yep. They've had plenty of practice finding clues and write them on an organizer."
"That prepared them to write for these mystery writing activities," said Ms. Sneed. "I can't imagine jumping into this project without plenty of practice first."
Brainstorm Mystery Writing Ideas
Mr. Frank pulled some pages from his bag. "I'd like to use this writing unit. For a mapped mystery, students first brainstorm. One of my students let me keep her paper from last year." He slid it across the table to Ms. Sneed.
"Oh, this corresponds to the reading passages and detective activities we've already done," she said.
Plan Mystery Writing
Mr. Frank handed his teaching partner another page. "After brainstorming, this mystery writing activity asks each child to map and write his/her own story. It's narrative writing at its best!
"First, kids explore ideas for writing. What problem, mystery, or crime will be the focus of the story?
"Second, they choose a setting. I ask then to consider clues that might be positioned in the setting.
"Third, they develop characters. Of course, they must include multiple suspects with motive and opportunity.
"Fourth, they map the mystery. I ask them to include at least three clues and a red herring.
"Just like reading mysteries, writing them requires critical thinking. Do the clues clearly lead to the solution? Do the red herrings provide just the right amount of obscurity? Does the dialogue provide insight to the characters and move the plot along? I've found that my students grow as thinkers and writers with this activity. They also apply strategies for improving narrative writing."
"Very impressive!" said Ms. Sneed. "This mystery writing activity is challenging. But the graphic organizers will help my students get there. I'm in!"
Try Mystery Writing Activities with Paper Bags
Later, Ms. Sneed paged through the unit. She read the description of a second mystery writing activity:
Do you want something a little more lively? Try paper bag mysteries. Here's how it works: Kids pull character, setting, and situation cards from paper bags. Then they concoct a story around those elements. This writing activity is a real crowd pleaser!
"Hmm," she thought. "A few of my students may have trouble with the full-blown mapped detective story. I think I'll use this fun project for differentiation."
For a Simple Project, Make Puzzle Pictures
As she continued to peruse the mystery writing activities, she found something else: puzzle pictures. This activity would take minimal class time, encourage critical thinking, and would fill that empty bulletin board in her classroom. Ms. Sneed jotted down the steps.
Select a photo. (It can be cut from a magazine or printed.)
Paste the photo on the top of a sheet of paper.
Write or type clues about the person, place, or thing in the photo on the bottom of the paper.
Cut construction paper to cover the photo but not the clues.
Cut a small peep hole in the construction paper to show a little of the photo.
Staple the construction paper to the top of the paper.
Hang on the classroom wall or in the hall. In just a few minutes, kids will be drawn like magnets to the mystery pictures!
Yessir, Ms. Sneed's class would be doing this activity the next day!
Once again, that happy little teacher smile spread across her face. Mystery writing activities developed just for kids sure made teaching fun. Now Ms. Sneed felt ready to add writing projects to all her genre studies.