Mystery activities for kids = fun! Let them think like detectives. They'll love cracking codes, experimenting with invisible ink, fingerprinting, making observations, and more! At home or in the classroom, add some excitement.
Ms. Sneed Adds Some Detective Activities to Her Mystery Unit
Our favorite fourth grade teacher, Ms. Sneed, sat at the computer with her co-teacher. "I'd like to improve our mystery genre study," she said. "We begin with elements and vocabulary. Next, kids explore inference activities and short mysteries. Finally, we move to novel studies. We even have some writing projects. What would complete this unit?"
"Can I make a case for some detective activities?" asked Mr. Frank.
"Hey, that sounds like a lot of fun! Let's plan some for our ELA block."
Encourage Kids to Become Observant
"First, how can we train kids to be more observant?" Ms. Sneed asked. "When they read, the clues blow right over their heads."
"Hmm, how about challenging them to notice things? For example, we could move something in the classroom each day. We could also see if they remember what their teacher was wearing."
"Great idea for mystery activities! These observation games won't even need any materials."
"Let's make a list of classroom and online games," said Mr. Frank. With just a little searching, the teachers chose this set of observation games:
Move five objects in the classroom each day. How many can each child notice?
Go to a place in the classroom where the kids can't see you. Ask questions about your eye color, the clothing you're wearing, etc.
Arrange 30 items on a tray. Let the students look at it for 30 seconds. Then take the tray away. How many items can they remember?
For some online fun, visit CIA Kids Zone. Take the Photo Analysis Challenge and play Memory.
"When kids are more observant, they're better readers," said Ms. Sneed. "These observation activities are fun – and will be well worth the time."
Let Your Little Detectives Crack Secret Codes
Mr. Frank commandeered the computer and began searching. "Hey, look at this set of mystery activities for kids. It includes secret codes."
"Yes, our little detectives would love these worksheets. Let's try them."
Her teaching partner added them to the cart.
Include Invisible Ink in Your Mystery Activities
Ms. Sneed clicked on the resource preview. "The kids can also experiment with invisible ink." She read on.
Method 1 – Stack two pieces of paper on the table. Write a message on the top paper, pressing firmly. Then remove the top sheet. To see what was written, lightly shade the bottom sheet with a pencil.
Method 2 – First, write on paper with a white crayon. Brush with watercolor paint to discover what was written.
Method 3 – Mix equal amounts of baking soda and water in a bowl. Next, write on paper with a Q-tip. Dry. Brush with grape or cranberry juice to discover what was written.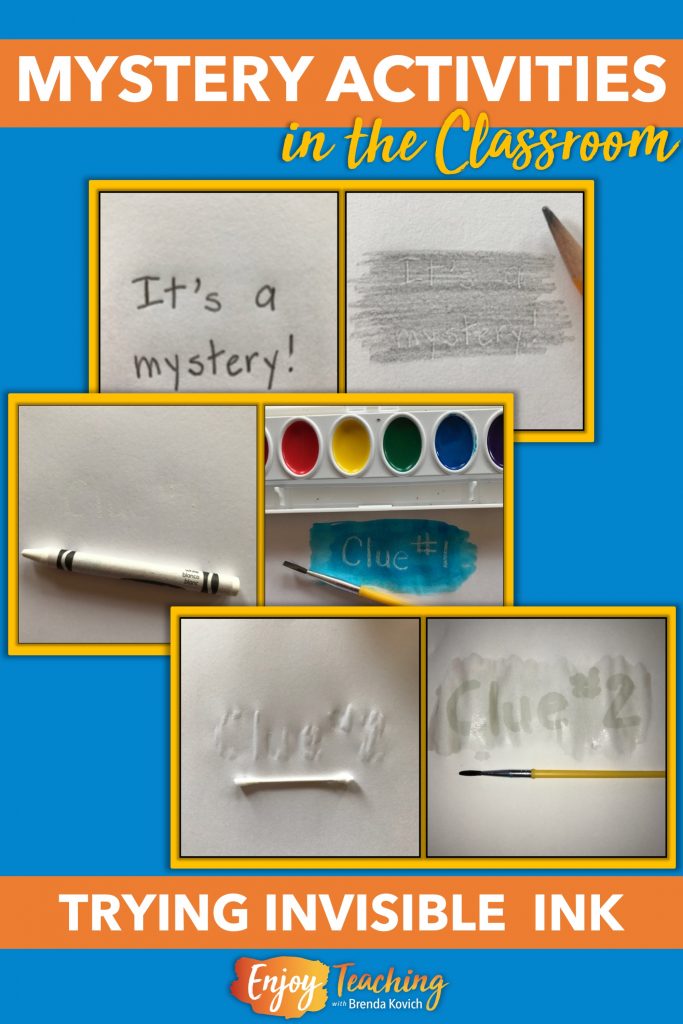 Mr. Frank laughed. "We're really ramping up our detective activities," he said.
Fingerprinting
"Look at these mystery activities," said Ms. Sneed. "Fingerprinting! It's as easy as loop, whorl, and arch! Our kids will feel like real detectives when they take fingerprints. You can use an ink pad or simple pencil lead."
"Here's a good tip, too," Mr. Frank added. "For clear fingerprints, use the pencil lead method. Then, instead of pressing directly onto paper, stick clear tape on the fingertip. Peel off and stick tape on paper."
Add Logic Puzzles to Your Mystery & Detective Activities
"To solve mysteries, detectives must think logically. Similarly, to understand mystery stories, kids must think logically. These logic puzzles will help them develop deductive reasoning," Mr. Frank continued.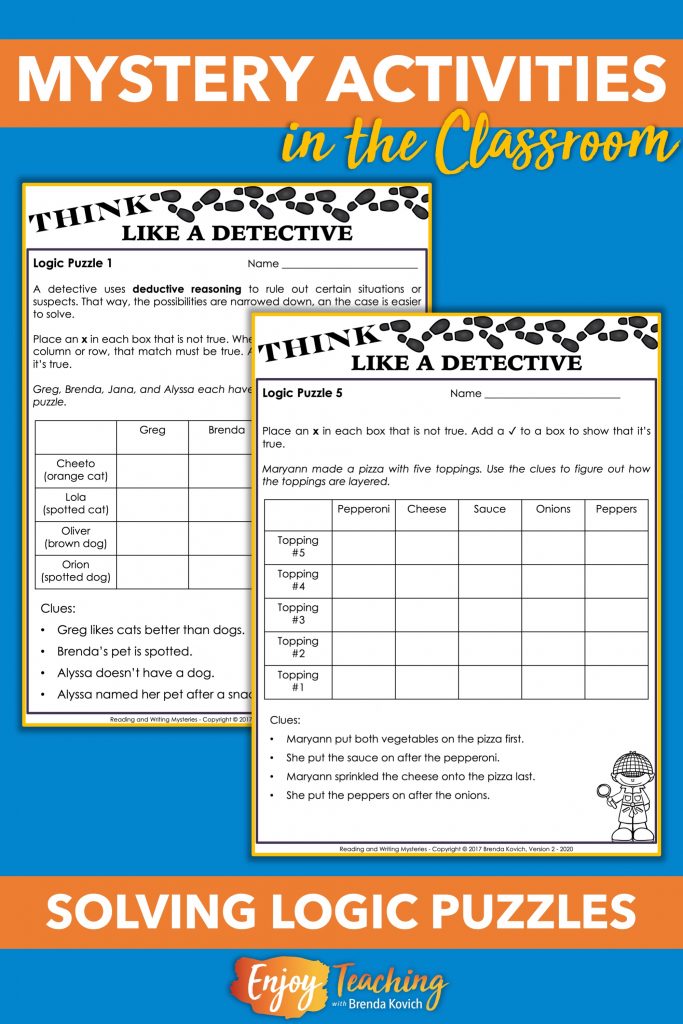 Build Your Mystery Unit with Reading Activities, Novels, and Writing
"Well," said Mr. Frank, "these mystery activities will surely help our kids learn how to think like detectives. Now let's work on reading and writing."
"In addition to these fun mystery activities, this teacher has created a set of mystery reading passages, writing activities, and even a classroom CSI simulation," said Ms. Sneed. "Let's take a look!"
"You know," said Mr. Frank, "I'd like to find activities like this to go with all our genre studies."