Teaching mystery genre study to third, fourth, or fifth grade kids? Start with great stories. Add fun activities and games. Mix in some writing and maybe a novel. Top it off with a simulation. Your students will have a blast – – – and you will too!
Ms. Sneed Organizes Lesson Plans for Teaching Mystery Genre
Our favorite fourth grade teacher, Ms. Sneed, grinned. "What's next in our ELA block? Our mystery genre study!" she said to her teaching partner, Mr. Frank.
"This year, we're prepared," he responded. Without hesitation, he opened his laptop. Then he clicked to find the files they needed.
"I can't wait! How long do we have to complete this unit."
"Five weeks. Can we squeeze it all in?"
"Let's try!"
1 Focus on Inference and Read Short Stories When Teaching Mystery
First, they organized the reading activities. "We will begin with inference activities," said Mr. Frank. "That way, all kids can practice reading closely – and tying details together to draw conclusions."
"If we feel pinched for time," Ms. Sneed added, "we can just read a few aloud each day."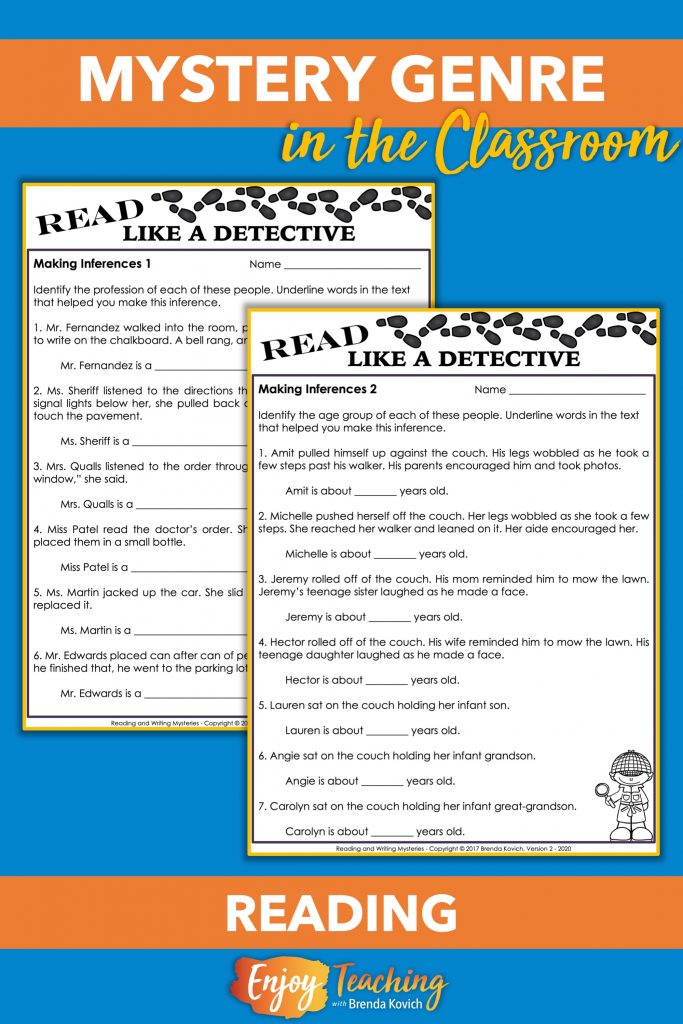 "Next," Mr. Frank continued, "we'll move into teaching mystery stories. These two-page passages are perfect for mapping. Kids identify the problem, clues, red herrings, and the solution."
"Right," said Ms. Sneed. " In addition, they let kids see how authors plan mystery stories. This gets them ready for writing mysteries, which we'll do later."
"I'd like to emphasize specialized mystery vocabulary this year," said Mr. Frank. He returned to his laptop and clicked around. "Here, I found some mystery posters. These will look great in our rooms."
2 Add Detective Activities
Next, they worked on the detective activities. "I'd like to start teaching mystery with observation. Last year, after my students learned to be more observant, their close reading skills improved," said Mr. Frank.
"Not only that," his co-teacher responded. "These activities are F-U-N!"
Mr. Frank chuckled. "Umm-hmm. After that, we'll schedule one day for the invisible ink. Each of us can use the secret codes, logic puzzles, and fingerprinting however and whenever we want."
"Don't forget about the online games," Ms. Sneed reminded him. "We can share this list of URLs with our students again this year. That way, if they finish early, they can play away!"
3 Teaching Mystery Is Only Complete with a Novel Study
"Once our students have some experience with the genre format and detective work, they'll be ready to start a full-length novel," said Mr. Frank.
"Yes, and as we agreed, we'll use two when teaching mystery this year. The Maze of Bones by Rick Riordan works well for most fourth and fifth graders…"
"…And we'll use The Westing Game for our top readers," Mr. Frank finished. "Since we want our kids to read one day and discuss the next, this part of our unit will take three weeks. Fortunately, two parallel novel studies are available: one for The Maze of Bones, and another for The Westing Game."
As Ms. Sneed looked through the pages of the novel studies, Mr. Frank penciled the chapters into their lesson plans.
4 Ask Kids to Write Their Own Mysteries
"We can add writing activities to our ELA block while the students are reading their novels," said Ms. Sneed. She pulled the unit from the pile in the middle of the table and thumbed through it. "This includes three projects: a picture puzzle, paper bag stories, and a mapped mystery."
"I vote for the activity that requires them to map their stories with flow charts," said Mr. Frank.
"Me too. It's the most difficult, but also the most appropriate."
5 Culminate Your Genre Study with a Classroom Mystery Simulation
"Wanna go all-out with teaching mystery this year?" asked Mr. Frank.
Ms. Sneed's eyes twinkled. "Of course! Are you thinking what I'm thinking?"
"A simulation!" they both said together.
"We can use the corresponding CSI detective activity," said Ms. Sneed. "The entire simulation is done for us. Kids take notes from pictorial evidence and interviews. Then they analyze fingerprints, powders, and chromatography."
"Perfect!" Mr. Frank exclaimed. "I don't know who will have more fun – the kids or me!"
Complete Lesson Plans
"There," said Ms. Sneed. "We've finished our lesson plans for teaching mystery. This will be the best genre study ever!" And, of course, that famous teacher smile spread across her face.
Enjoy Teaching
Over the course of her career, Ms. Sneed organized her ELA units around genres. That connected concepts and kept kids excited about learning. In time, Ms. Sneed developed units for Greek mythology, fables, fairy tales, realistic fiction, historical fiction, and biography. Mystery, however, was always her favorite.