Teaching poetry with I Spy books sparks kids' imaginations. It's fun, easy, and active. After a little instruction on verse, stanza, rhythm, and rhyme, students are ready to create their own I Spy pages. You can display them in the hall, share them with younger students, and/or bind them into books.
Ms. Sneed Learns to Like Teaching Poetry
Our favorite fourth grade teacher, Ms. Sneed, frowned. "Next up: teaching elements of poetry," she said to her colleague, Mr. Frank.
"I know it's not your favorite," he replied. "But maybe you'd like this I Spy activity."
"Hey, that looks fun," Ms. Sneed said. "What exactly do the kids do?"
Teaching Poetry, Prose, and Drama
"Third, fourth, and fifth grade students need to understand the structure of poetry, prose and drama," continued Mr. Frank. "Why limit this unit to literary structure? I like to throw in a little writing. During the first week, my class tries just a bit of poetry. This is where the I Spy project comes in."
Analyzing I Spy Books
"As a starting point, we analyze some poetry. The simplicity of I Spy is perfect for beginners. The first verse for every picture begins with 'I spy.' Each poem has four verses divided into two stanzas. Pairs of verses rhyme, so it's written as couplets. Every verse has four beats. First, my students clap out the beat with me to get the hang of it. Then they practice on their own with additional poems."
" Maybe I could teach simple poetry like this," Ms. Sneed commented. Her face brightened as she considered the possibilities.
Setting the Stage
Mr. Frank pulled out his phone. "A little hype never hurts! Last year, I presented an invitation to create I Spy poetry with a bulletin board. One of my books, I Spy Fantasy, was getting a little ragged, so – what the heck – I decided to cut it up and make a display! The vibrant pictures really popped."
Ms. Sneed looked at the photo of his bulletin board. "This is beautiful! How did you create those letters?"
"With PowerPoint. First, I inserted a circle on the page. Then I put a text box on top of it and chose a font. To do this, you need to keep playing with the size to get it just right. Finally, I chose some colors that would look fabulous on my bulletin board.
"To make more letters, simply duplicate the slide. And, as you can see, I used smaller fonts for the circles with words."
"Awesome!" smiled Ms. Sneed. "I'll try it."

"I sent home a note asking each child to bring their I Spy items," Mr. Frank continued.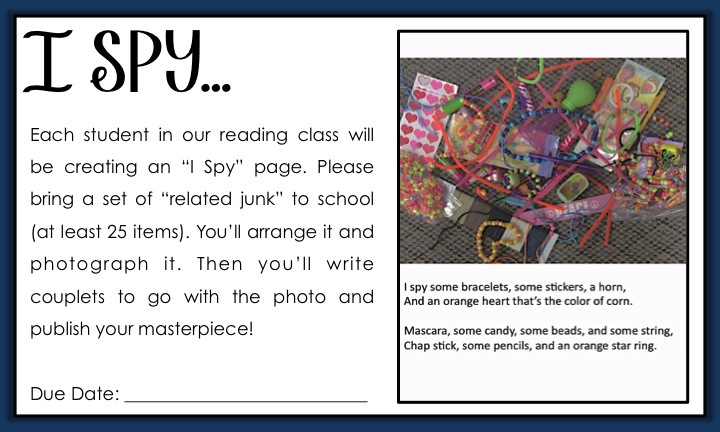 "When the day arrived, some students forgot their items. No problem! I just gave them a bag and asked them to find items around the room for their pictures."
Ms. Sneed Starts Teaching Poetry with I Spy
The following week, Mr. Frank walked into Ms. Sneed's class. Where was she? All around him, kids arranged dozens of random materials for their I Spy projects. Oh – and there was Ms. Sneed, phone in hand, snapping photographs of her students' work. Instead of stressed and strained about teaching rhyming poetry, she actually looked happy.
Enjoy Teaching
Over the course of her career, Ms. Sneed realized that teaching poetry was actually fun. Year after year, she added more types of poetry to her repertoire. First, she tried limericks, a fanciful form with rhythm and rhyme. For fun, she had her kids write acrostic poems about their favorite sports. Next, they worked on shape poems, including diamante. When she gained more confidence, Ms. Sneed ventured into haiku and cinquain. As her skills grew, her students wrote better and better pieces. This made her enjoy teaching even more.