You can make an eBook with Google Sites! When you load text and pictures into your site, a professional-looking eBook emerges. Not only that – you'll also have a paperless solution for your classroom.

Creating an eBook with Pictures
During our unit on Greek mythology, I wanted my students to read passages. Unfortunately, my budget didn't allow me to purchase books for everyone. So I set to work writing my own. Again, I ran into a problem: too much copying! Then I realized that I could upload the passages into Google Sites. Voila, an eBook!
For this eBook, I wanted a picture to appear next to the text. That way, I could place the picture and text side-by-side. Although this was built with the old platform, classic Sites, it works pretty much the same way with the new Sites. Just choose the format that allows you to place two images side-by-side.
I decided to group the characters into four groups: creatures, gods and goddesses, heroes, and more myths. For each category, I made a cover page.
To meet my fourth grade standard on allusions, I added a reference guide (and mentioned the allusions in the texts).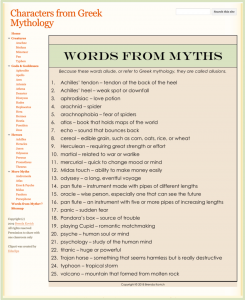 Now that it's done, I love using this little eBook – and so do my kids. We have everything we need all in one spot. (With no copying required!)
Creating an eBook to Store Passages
Once I realized that eBooks were so easy to create, I made another. This time, I stored one-page fables in a quick and easy website with New Google Sites.
Creating a page for each fable, I just dropped them in. Super easy! And again, I saved trees. Kids now read the fables on their Chromebooks. It's a great paperless solution.
Asking Kids to Create an eBook
Your students can also create eBooks! Just follow the directions for creating collaborative websites. Ask each child to write a story on a different page of your class website. Soon your class will write its own digital book.
Google Sites Provide Lots of Options for Teaching and Learning
With Google Sites, you can revolutionize teaching in a variety of ways. Consider these examples:
The possibilities are endless.
What are you waiting? Get started with Google Sites today.